Mark Houck felt the 'hand of God' upon him while facing federal prosecution: 'Suffering for Jesus'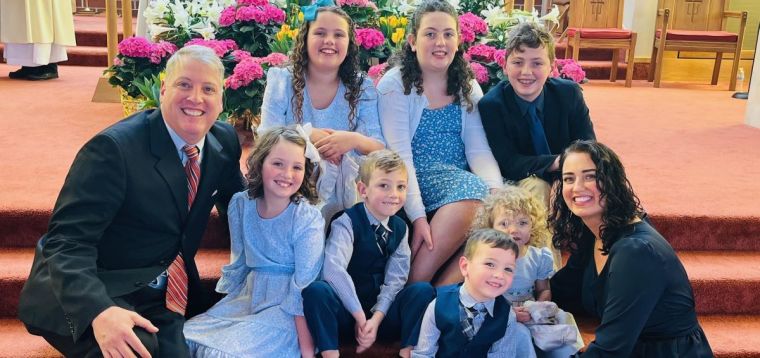 Mark Houck, the Catholic pro-life advocate who faced 11 years in prison after being charged with a federal violation, says he and his family felt the hand of God upon them from the moment they learned about the indictment to the end of the trial. 
In an interview with The Christian Post, the father of seven and founder of The King's Men, opened up about his career in ministry and how he became committed to defending the lives of preborn children. He shared his plans to continue his work now that the trial is over and why he thinks the Justice Department pursued a case against him. 
The advocate was charged with two counts of violating the FACE Act in two incidents at a Planned Parenthood abortion clinic in Philadelphia on Oct. 13, 2021. His arrest last September at the hands of federal agents made headlines, with many, including members of Congress, questioning his arrest and prosecution. 
The indictment accused Houck of shoving abortion clinic escort Bruce Love in two separate incidents on the same day. In one incident, Love confronted the father as he was counseling two women across the street from the clinic. He was accused of shoving the escort again after Love became confrontational with Houck and his son, causing the escort to fall to the ground and injure his elbow. 
In January, Houck was declared not guilty on all counts in the U.S. District Court for the Eastern District of Pennsylvania. 
Houck's responses have been lightly edited and condensed for this article.
Christian Post: How did you get involved with pro-life work? Have you always considered yourself pro-life, or did you come to embrace the movement later? 
Houck: Yeah, I guess I wasn't really outspoken on the life issue. When I was about 28 or 27 years of age, my mother showed me a picture of an aborted child, which I kind of resisted seeing. But she insisted that I look at it.  
The time I saw the picture was about 2000. So I was about 26, 27 at the time, and I probably would have said I was pro-life then, but kind of like the on-the-fence rider where like, you know, "How can I tell a woman what she can do with her body?" kind of thing. 
And then, yeah, so once I saw that image, I told my mom I didn't want to see it. She said, "No, you have to see it, or you won't do anything about it." And then I said, "OK." 
I looked at the picture, and I recognized that I could no longer turn my back to the issue. This was clearly something that I needed to address, both with my own personal awareness and education, but I also needed to do something about it.
So I started to get more educated, and I eventually volunteered a lot of time with pro-life organizations. And by 2003, I was, after a master's degree in education, I decided that I would leave teaching and become a full-time educator on the issue of life. 
And then I did do that for about three years. I was full-time in the pro-life movement, and in 2006, I launched my own ministry, The King's Men, which is what I still do. 
CP: Can you tell me more about your ministry, The King's Men, and what it does? 
Houck: Yeah, it's called The King's Men and was founded in, well, really, in '04. It was based on a small men's group, and then it evolved into a full-time ministry in '06. So what we do is we have small men's groups around the country, and they're just organically growing. We have some in Europe, we have one in South Korea, and we used to have one in Afghanistan. Those were military bases in Korea and Afghanistan.  
So we have that offering whereby we support these groups, we help them get started, and we give them the methodologies and training that they need to do them on their own at the local parish level or wherever they want them.  
So that's kind of like the heartbeat of what we do. And then we have ... more of an education formation piece of what we do. Then we have a call to action where we invite men into to build the battles, as we would say, where they take on the life issue, fight the cultural war, engage the culture with regards to traditional marriage, and defending the unborn, and fighting the evil of pornography. 
And then, you know, we keep up a presence at these prayer vigils for abortion. So that's another piece of what we do. We have a retreat offering whereby we invite men to go on a retreat with us, outdoor experiential retreats, to get them educated and further understand their roles as men.
Our mission is really to build up as leaders, protectors and providers. And so we do this on these this type of training on our retreats. Some of them are a little more survival training in nature.  
We have a healing retreat that we do because a lot of men expose a lot of wounds on these other retreats and in our men's groups, and we wanted to offer them some healing. And so we have a healing offering also for women. 
We figured we are part of their game. We were part of the wounds that they had, so we need to be part of the solution to provide healing. So we started a women's healing retreat, which is led by women. 
We'll do other things periodically that come up in the culture war and local things. We're kind of a voice for those that don't want to speak on the more difficult topics. 
CP: Have you always been a Christian? Has faith always played a big role in your life? 
Houck: Yeah, I'm a cradle Catholic, so I'm a Catholic Christian, and I've never left the Church, so to speak, never fell away, if you will, or walked away. I had my own journey of faith in regards to living a double life. So, you know, just not really aware of my own sinfulness in the way that I should have been. 
But never left the Church, kind of like a reversion, if you will. You know, after college, I was a college football player, and that had its own baggage with it — pursued professional football for a little while. 
And then I had that reversion right around the time where my mother convicted me on the life issue. I was doing youth ministry and was really trying to walk the walk and recognized that I was talking the talk, but I wasn't walking the walk. 
So I tried to pull all those pieces together. It was about seven or eight years before my life got really in a place where I was truly walking the walk. So that kind of answers your question, I think.