Mary Mary Expresses 'Heartfelt Thanks' to Fans for Support Amid Father's Death
Watch Wetv Video of Erica and Tina Atkins Talking About Their Relationship With Eddie Atkins Jr.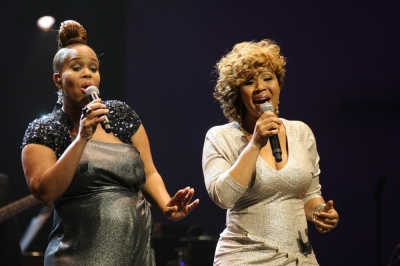 Erica Atkins-Campbell and Trecina "Tina" Atkins-Campbell, otherwise known as the gospel-singing duo Mary Mary, have expressed heartfelt thanks to fans for reaching out to them with prayers of support as they mourn the loss of their father, Eddie A. Atkins Jr., to cancer.
The Campbell sisters shared in a public message on Sunday:
Erica and Tina Campbell (Mary Mary) would like to extend their heartfelt thanks to all who have reached out to them during this difficult time. The ladies have been overwhelmed by the love and support of their peers, colleagues, fans, and friends and want to share the below message with you:

"Our dad was a powerful man. Our family had it's challenges but our love superseded it all. We had the opportunity to profess our love for our father. We were able to tell him how much we loved him, valued him, and how much life had helped us to understand the things that we couldn't for many years. Our dad was a man of immense physical and spiritual strength. He always covered us in prayer. He warned us when hardships were coming, taught us how to pray through, fight on, and overcome life's challenges. What better gift can a man give his family. Our family prayed and thanked God for our dad's life and healing on Monday night and God chose to give him the ultimate healing on Tuesday afternoon, which was a transfer from life on earth to life in Heaven. God sent him out better than we ever could've imagine and for that, we will be forever grateful. We love our daddy dearly, respect him highly, and will remember him always."

- Tina and Erica Campbell.

The award-winning singers publicly acknowledged their father's death last week after it was revealed that Atkins Jr. had died on Tuesday, June 25, 2013, in Los Angeles. Tina and Erica Campbell shared last Wednesday that their father was "with Jesus now" and credited him with teaching them how "to pray (and) trust God."
Atkins Jr., who had married and divorced the sisters' mother, Thomasina "Honey" Atkins, three times, had appeared on their reality television show on Wetv. He has been described as "a community leader (and) youth minister" and credited with laying the foundation for Erica and Tina Campbell's "broad reaching musical platform that allows them to deliver their brand of gospel music not just to the church but to the masses regardless of their walk of life (and) spiritual understanding."
The network this week shared a deleted scene from the "Mary Mary" reality show in which the sisters"share a moment of compassion when having a conversation about their father." The clip, titled "Mary Mary: A Father's Love – Deleted Scene," can be viewed below, or at Wetv.
Mary Mary, reportedly named after the Bible's Mary Magdalene and Mary the mother of Jesus, has won several awards since their 2000 debut album Thankful, and the group has been nominated for Best Group and Best Gospel Artist at the 2013 BET Awards, airing tonight on the BET network.