Mass shootings: Serious answers to a serious problem
These past few days Americans once again have been bombarded by images of their fellow citizens being gunned down in mass shootings.  This time the locales were Atlanta and Boulder. As we grieve for the innocent victims and their loved ones, we once again are assaulted with the images of politicians at the local, state and federal levels sprinting to microphones and firing up Twitter to make political points for this or that public policy, most frequently either blaming racism and ethnic hostility and/or the easy access to handguns that they believe should be banned and confiscated.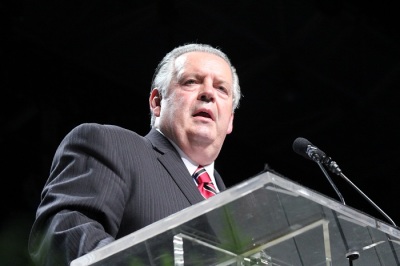 We should reject all such simplistic answers and come together as Americans and insist that we and our political leaders (if they want to continue to be our leaders) engage, have a conversation and dialogue, where we must talk with, not merely to, each other and seek to answer the question why so many of our fellow citizens (almost always male, very frequently young) feel such a sense of despair, hopeless and societal disconnection that they lash out in violence against their neighbors.
Make no mistake: the answers are complex, not simple.  These ongoing shootings are violent eruptions symbolizing the extreme social malfunctions, seething and boiling just below the surface in America, and "gun control" is far too simple an answer.  Such a simplistic answer is equivalent to putting a Band-Aid on a severed artery and expecting the bleeding to stop.
In actual fact, the causes are many, and they include some vexing issues that afflict the human heart and the human soul.
There are several pressing issues currently rending the social fabric of our nation.   Americans could easily begin a discussion of the issues lacerating our body politic by just naming the ones that immediately come to mind when these tragic incidents occur.  And we must always remember that the background noise providing the disharmony to the dysfunctional melody of the mass shootings are the "routine" violence afflicting our major cities on a daily and weekly basis.  For instance, 620 people have been shot this year in Chicago, 150 more than this time last year.  (This past weekend CBS's Chicago affiliate reports that at least 30 people were shot in Chicago with at least 8 fatalities). This in a city with gun control laws that are probably the most restrictive this side of Communist China.  
What has gone so seriously wrong in our culture?  A few of the phenomena that immediately come to mind when such a question is asked include the following:  fatherlessness, racism, the collapse of our inner cities, the mindless glorification of violence in our media and entertainment industry, our failed mental health system, our identity politics that forever emphasizes our differences rather than our common humanity, and the systemic disrespect and mocking of police officers and by implication, disrespect and disdain for the legal system they symbolize and represent.
As we discuss this terribly painful and crucially important issue, we need to keep in mind some very relevant and perplexing context.  I have taken some negative flack in the past for saying that gun control is not the answer and that using gun control to address the issue of mass shootings is analogous to expecting a Band-Aid to heal a severed artery.
Why would I make such an assertion?  Well, first we need to deal with the fact that we have always had relatively easy access to guns in America from the 17th century onward.  And yet we didn't have mass killings.  As Dennis Prager has helpfully pointed out, in the 20th century alone every decade before the 1970's had fewer than 10 mass shootings.  The 1950's had one.  The 1960's had six.  The 1970's had 13.  In the 1980's there were 32 mass shootings and in the 1990's 42.   
Why the shockingly rapid increase?  One clue is that the mass shooters are almost always young men.  Of the 27 latest mass shootings where at least eight people died, 26 had functionally lost their fathers in the home – the aptly named "dad deficit." The illegitimacy rate in 1960 was 5%.  Today, it has soared to 41%.
All relevant indicators point to the mass shootings as by-products of Americans ignoring the basic truths about what children and adolescents need to become healthy, well-balanced adults.
A relatively recent published Research Report (2003) provides Americans with some very revealing and helpful findings that could help us address this crisis, if we were to heed its findings and act accordingly.  In "Hardwired to Connect: The New Scientific Case for Authoritative Communities," from the Commission on Children at Risk, sponsored by the YMCA, Dartmouth Medical School and the Institute for American Values, the Commission warned that 1 in 5 children in America are at serious risk for emotional and physiological problems because of a "connection crisis." 

The Report presented extensive scientific evidence that the human brain is "hard-wired" for two fundamental kinds of connection: horizontally in close relationships with other human beings, and vertically in finding moral and spiritual meaning through a relationship with a transcendent divine being.
The Report also pointed out the overwhelming evidence of the critical need in adolescence for connection with other human beings.  Their research led them to conclude that:
Our moral sense originates in our attachment wiring.  Close attachments in infancy yield healthy moral development later or Impoverished attachments in infancy erode moral understanding of right and wrong, love and hurt, honesty and deceit.  Our biologically based need for attachment – for feeling loved and protected and understood – is so important that it has a biological effect on what our moral worldview is as adults.
The study also found that our human hard-wiring for moral and spiritual connection continues throughout our lives.  Positive social role models have a direct effect on the development of positive social behavior – and the reverse is true as well.  A society that neglects its responsibilities to inculcate moral identity can expect moral chaos.
Also, in a finding that will shock a rapidly secularizing America, the study found that the human brain is hard-wired to ask ultimate questions and seek ultimate answers.  The Report found this need "fundamental to being human" and concluded that if a society is not providing ways for children to develop a relationship with God, that society is guilty of depriving its children of something they need at "a biological level."
The relative collapse of virtually all of the mediating, socializing institutions in American culture is not irrelevant to the morbid increase in destructively violent behavior among our people.
God made us for relationship with Him and with each other.  We ignore that fundamental truth at our, and our children's peril. 
Dr. Richard Land, BA (magna cum laude), Princeton; D.Phil. Oxford; and Th.M., New Orleans Baptist Theological Seminary, was president of the Southern Baptists' Ethics & Religious Liberty Commission (1988-2013) and has served since 2013 as president of Southern Evangelical Seminary in Charlotte, NC. Dr. Land has been teaching, writing, and speaking on moral and ethical issues for the last half century in addition to pastoring several churches. He is the author of The Divided States of America, Imagine! A God Blessed America, Real Homeland Security, For Faith & Family and Send a Message to Mickey.