Matthew West Speaks of God's Grace at National Prayer Breakfast, 'Importance of Praying for Leaders'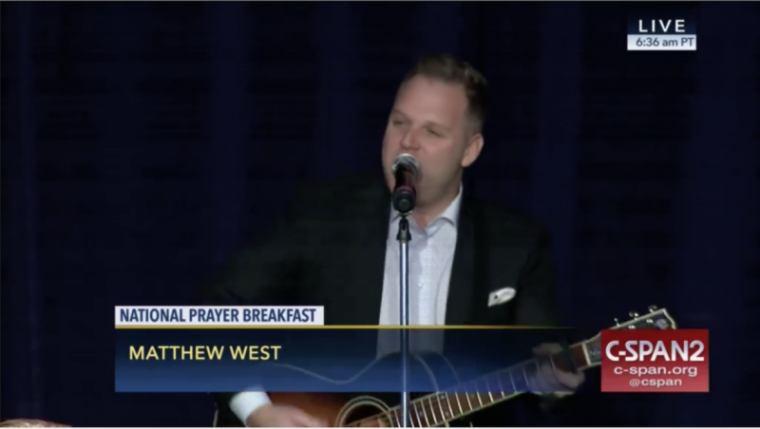 Award-winning singer Matthew West performed at the National Prayer Breakfast in Washington, D.C. Thursday, and used the opportunity to speak about God's grace.
West said the experience showed him the importance of praying for the nation's leaders. He was invited to the breakfast by Rep. Randy Hultgren, R-Ill., who met the four-time Grammy nominated artist after he performed at the opening of the Museum of the Bible in November. The Prayer Breakfast, held at the Washington Hilton, celebrated its 66th year with over 3,500 people in attendance.
World leaders from over 100 countries attend the event, along with members of Congress and President Donald Trump.
During his speech, West described the messages he heard at the prayer breakfast as, "One powerful story of redemption after the other and each one a glimpse of God's grace in our lives, and a reminder that the author of all stories is not done when our stories are in the middle of a broken chapter.
"But how many of you believe that God's plan for each one of our stories is to be a victorious, comeback story?" he asked the audience. "Are you thankful for that this morning?"
West then sang his hit song "Grace Wins."
"I felt tremendously honored to sing at the 66th National Prayer Breakfast. To see thousands of people from all over the world coming together in our nation's capital to pray and to acknowledge that we are one nation under God was something I will never forget," West said in a statement shared with The Christian Post after the event.
"Just before I sang 'Grace Wins,' Rep. Steve Scalise shared his powerful comeback story of a miraculous recovery from a near tragic shooting last June. I couldn't help but smile as I thought of the lyrics I was about to sing. 'No more lying down in death's defeat, I'm rising up in victory, singing hallelujah, grace wins every time.'
"I'm leaving today's event reminded of the power of prayer and the importance of us praying for our nation's leaders."
West was also in attendance to hear Trump's speech. The president spoke about the religious heritage of the United States, pointing to such things as the national motto "In God We Trust" on our currency and "under God" in the Pledge of Allegiance, adding that "throughout our history, we see the story of God's providence."
President Dwight Eisenhower was encouraged by the Rev. Billy Graham to attend the first prayer breakfast in 1953, which began the tradition for every president thereafter.