Meet the Hero Pastor Who Took Down Gunman Who Allegedly Shot Baby and Girlfriend Inside Church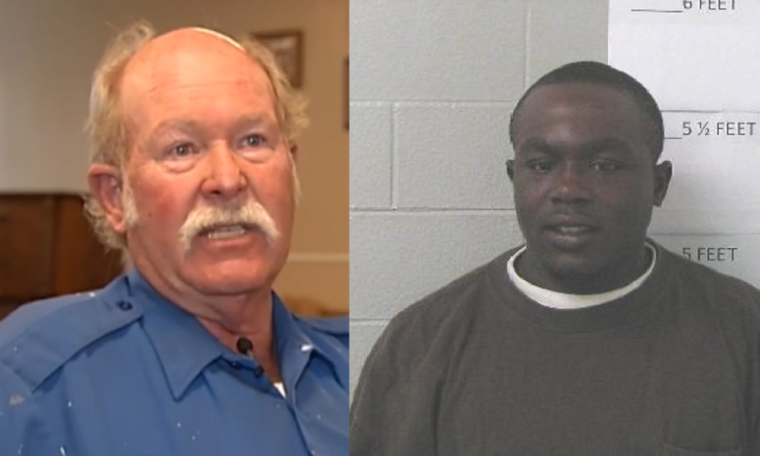 Bob Carswell, the 61-year-old pastor of Oasis Tabernacle Church in East Selma, Alabama, who took down a gunman who shot a woman and an infant inside the church on Sunday, said he was just doing his job to "protect his sheep" and has already forgiven the suspected gunman, James Minter, 26.
"No. This is just a shepherd doing his job to protect his sheep. No more. No less," said Carswell, reacting to the public praising him as a hero on Monday during an interview with WVTM13.
Carswell explained that he was about to start teaching from the book of Matthew shortly before 11 a.m. Sunday when he saw a young man brandish a pistol and shoot a woman and baby sitting in one of the front pews. He immediately sprang into action despite knowing that he could get shot.
"I grabbed for the gun. The thought ran through my mind at that moment, 'You might get shot,'" he told WVTM. Seeing the pastor's bravery, other church members joined in and helped the pastor wrestle the gunman to the ground.
"All I had time to do was [think,] he is going to kill her if I stand here. He is going to kill her right here. The thought that ran through my mind was, 'You are not going do this on my watch,'" said Carswell.
The gunman managed to flee the church after the shooting but police eventually arrested James Minter about a mile away and he was charged with three counts of attempted murder.
Investigators explained in another WVTM report that Minter entered the church Sunday morning and sat next to his 24-year-old girlfriend and 1-month-old son and shot them. His girlfriend was shot in the shoulder and jaw while the baby was struck in the hand and has reportedly lost three fingers. Pastor Carswell was also shot in the leg but was treated at an area hospital.
"He shot the baby and the pastor ran over there and tried to get the gun from him," said Dallas County District Attorney Michael Jackson. "The pastor was a good Samaritan, tried to get the gun from him and the pastor got shot."
According to Theodore Rivers, a friend of the pastor, "It took an extraordinary amount of courage to even think about doing something like that."
Other friends like Mary Nettles said: "Since I've known him (pastor), I've known him to be a man that tries to help people. So it doesn't surprise me that he came to the rescue of her and her child."
As for Carswell's reaction to Minter, he said, "I forgive him. I don't hold a charge to him."
"I hate that it had to happen, period, much less in God's house. Because when it happens in here, the doctor said yesterday, he said there is a place in Hell for folks like this," said Carswell.