Megachurch Pastor Greg Laurie: Pursue Rest, Not Materialism, This Christmas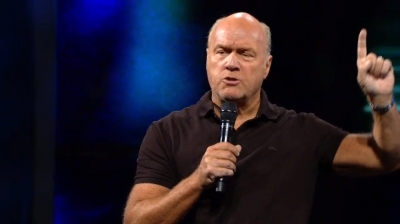 Pastor Greg Laurie of the California-based Harvest Christian Fellowship has called on Christians to focus on rest and reflection this Christmas season, rather than gift-giving and materialism.
Laurie, who serves as the head pastor for the Harvest megachurch in Riverside and Orange County, California, recently explained the true importance of the Christmas season in a blog post on his personal website.
Laurie encouraged Christians to turn to God this holiday season, stressing the importance of rest and meditation rather than frantically searching for the perfect gift for a loved one.
Laurie also encouraged Christians to focus on the time and memories they share with loved ones, as well as seeking moments of contemplation to cure weary souls.
The megachurch pastor argues that the only way to achieve true rest and rejuvenation this holiday season is to turn to Jesus, pointing to several Bible verses that state that true peace will be found when one turns their hearts and minds to Him, such as Romans, chapter five and Matthew, chapter eleven.
"So Jesus was saying, 'You that are exhausted, you that are weary, you that are burdened with weight, come to me, and I will give you rest. I will forgive you of the spiritual debt you have. I will put my righteousness into your account. I will break the chains off you, and I will give you free access into my presence,'" Laurie writes.
"Materialism would say, 'Build it up, and you will find rest.' Pleasure seekers would say, 'Live it up, and you will find rest.' Religion would say, 'Keep it up, and you will find rest.' But Jesus is saying, 'Come to me, and you will find rest.' Having been justified by faith, we have peace with God," Laurie adds.
Other megachurch pastors have also been taking to social media to encourage Christians to remember the true reason for the season.
Pastor Ed Young of the Fellowship megachurch based in Grapevine, Texas recently took to Twitter to encourage Christians to celebrate the Advent season by using the hashtag "#ADVENTageous."
Young has also started the "Advent-ageous" series to focus on the Advent season, seeking to remind Christians about the importance of preparing for Christ's birth every Christmas season.
"Take time to draw away and reflect on Christ's birth and rejoice in His return this weekend at @FC! #ADVENTageous," Young tweeted this past week.
"Advent is the Preparation for the celebration of the incarnation and anticipation for the coronation of our salvation. #ADVENTageous," Young added on Sunday.
Fellowship Church has also called on members to "re-focus on the real purpose of the season" this year by focusing on Advent.
"It's that time of year when people everywhere are beginning to prepare for Christmas. Decorations are unpacked, presents are bought, and lights are strung. But as we lead up to Christmas here at Fellowship Church, we want re-focus on the real purpose and potential this time of year has. Because Christmas is more than an event; it's the advent of Christ's birth!" the church states on its website.