Megachurch Preacher Creflo Dollar Says 'There's No Such Thing as the Prosperity Gospel;' Says 'Money in My Pocket … It's God's'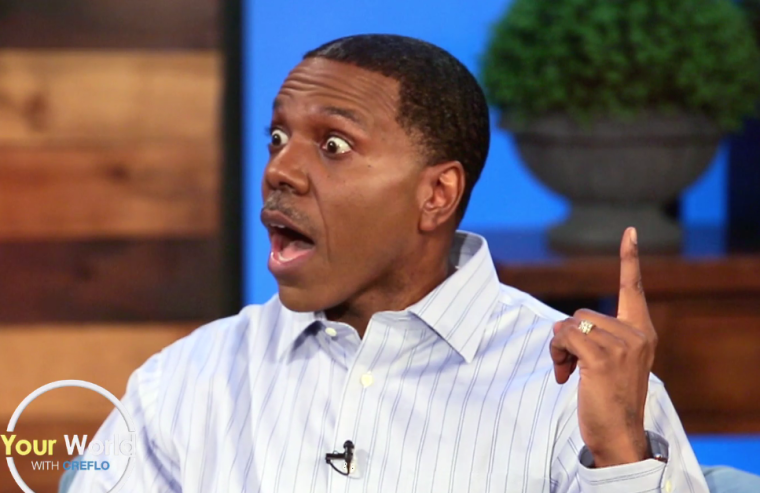 After coming under fire for asking 200,000 people to donate $300 or more each to raise $65 million to help his ministry purchase a luxury jet last month, popular televangelist Creflo Dollar, who is widely reported to be worth an estimated $27 million, has declared that "there is no such thing as the prosperity gospel" and the money in his pocket belongs to God.
"When we talk about prosperity, and people say it's the prosperity gospel, there is no such thing as the prosperity gospel, it's the gospel of grace. The money in my pocket is not mine, it's God's," said Dollar, in a promotional clip for an episode of "Your World With Creflo" where he speaks with pastor Gregory Dickow of Life Changers International Church.
"It came from Him. He is the source behind everything we have that is good. He loves to be trusted; He loves to be the one that you lean on. He loves to be the one that you rely on and He wants to be the one that you lean on and rely on first," continued Dollar in the clip.
The popular Atlanta, Georgia-based preacher who turned 53 in January, is recognized around the world as one of the most popular preachers of the prosperity gospel that promotes the notion that Jesus wants his followers to be wealthy. It is a controversial concept that religion scholar Reza Aslan has described as a "profoundly unscriptural" interpretation of Jesus.
"The argument of the prosperity gospel, if I can put it flippantly, is that Jesus wants you to drive a Bentley. That is basically what the argument is. That what Jesus wants for you is material prosperity, and that if you literally give, you will literally be given tenfold. That's not a metaphor, as it is in most churches. It is literal. You give me $10 and Jesus will give you $100," said Aslan, speaking at the 2014 Indian Summer Festival in Vancouver about his book, Zealot: The Life and Times of Jesus of Nazareth.
"I mean, if there is one thing that is just so clear cut and just not open to interpretation at all of any kind when it comes to Jesus' message, it is His condemnation of wealth," he noted.
"And yet, not only does this version of Christianity exist, as I say, it is honestly the fastest growing version of Protestant evangelical Christianity in North America. That's because Jesus can be whatever you want Him to be, and the Christian message can be whatever you want it to be," he added.
In his messages, Dollar condemns poverty as ungodly.
"Poverty is not the will of God for any believer. However, there are Christians who have taken a 'vow of poverty' because they believe that poverty is a part of being holy and righteous. This is far from the truth," he said in an article on his website titled "Your Inheritance of Wealth and Riches."
"Poverty has nothing to do with godliness, or God — likeness. To be poor, or impoverished, means, 'to be without; in lack; deprived.' You and I don't serve a God of lack and insufficiency. He is the God of the exceeding and the abundant. In fact, He wants to lavish you with His goodness (Ephesians 3:20)," he said.