Christian singer Megan Danielle makes it into top 3 on 'American Idol'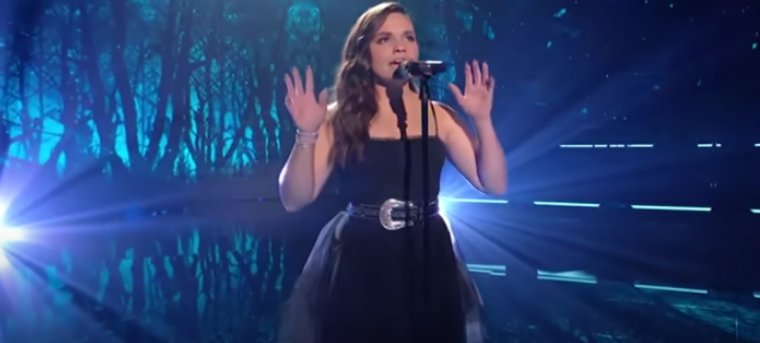 An outspoken Christian singer has made it into the top three on "American Idol" as viewers are slated to decide who will win the coveted title in less than a week.
Megan Danielle, whose Instagram page describes her as a "Christian Singer/Songwriter who wants to share the love of Jesus," announced in a social media post on Sunday night that she had become one of the top three finalists on the reality TV singing competition "American Idol." After noting that she was "so honored and grateful," she proclaimed, "Let's keep sharing the light and love of Jesus."
Danielle's advancement in the competition follows her performance of "You Can't Stop the Girl" from the film "Maleficient: Mistress of Evil" as part of the competition's Disney Night. On the most recent episode of "American Idol," which aired Sunday, Danielle and the other members of the top five performed songs featured in Disney movies.
According to the Internet Movie Database, the season finale of season 21 of "American Idol" is scheduled to air Sunday. It will feature "special performances from music legends and today's top artists" as "the top three contestants," including Danielle, will "take the stage for the final time as America decides who will become the next American Idol." 
Danielle has stressed the importance of her faith throughout her run on "American Idol," dating back to her audition in Las Vegas, Nevada. She detailed how she had begun singing in bars as a young adult, prompting her beloved late grandfather to pull her aside and ask, "What are you doing baby? This isn't what you're supposed to be doing." Danielle's late grandfather pressed her to consider, "How can you sing for God and sing for this?"
Danielle told the judges that her conversation with her late grandfather motivated her to embrace Christian music as her calling. As she performed "You Say" by "American Idol" alum Lauren Daigle, one of her revered musical influences, host Ryan Seacrest revealed to the audience that the Christian artist was planning on surprising the young singer. 
After Daigle showed up during Danielle's audition to the delight and shock of the "American Idol" hopeful and the judges, the two performed "You Say" as a duet. Following the duet between Daigle and Danielle, the judges gave Danielle the "golden ticket" required to advance in the competition.
Danielle's subsequent performances on season 21 of "American Idol" have included multiple renditions of Christian songs and songs that center on a higher power, including Lauren Daigle's "Thank God I Do" and "Go Rest High on That Mountain" by country music artist Vince Gill. "American Idol" judge Luke Bryan specifically selected Gill's ballad for Danielle to perform on an episode where judges anonymously picked songs for the contestants with the identity of the judge who chose the song for them remaining unknown until after the performance. 
"What I love about you is … you're never scared to tell everybody your faith," Bryan declared as he enthusiastically reviewed her performance of "Go Rest High on That Mountain." He added, "When I thought about that song, I … just felt in my heart that I couldn't pick a better one than that for you." 
Danielle is not the only outspoken Christian to experience a level of success in the current season of "American Idol." Warren Peay, who serves on the Colston Branch Church worship team in South Carolina, was eliminated from the competition last week as Danielle advanced to the top five.  As he performed "To The Table" by Christian musician Zach Williams during his audition, judge Katy Perry dubbed him the "Christian Chris Stapleton" due to his physical resemblance to the country singer in light of his long hair and beard.