Mel Gibson Tells Greg Laurie 'Passion of the Christ' Sequel 'The Resurrection' May Be His Next Project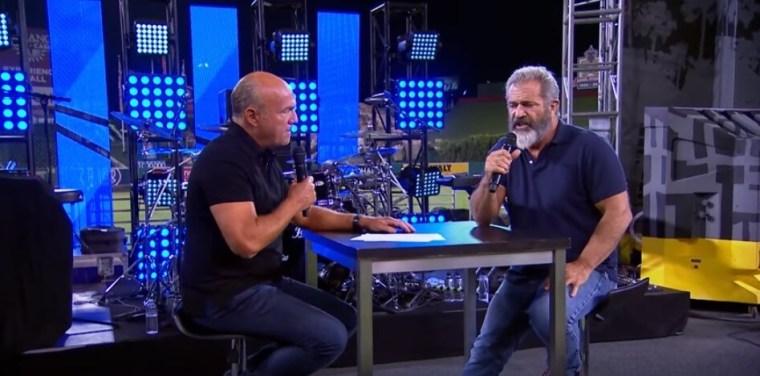 ANAHEIM, Calif. — Hollywood actor and filmmaker Mel Gibson appeared as a surprise guest at SoCal Harvest at Angel Stadium Sunday night and sat down on stage with evangelist Greg Laurie to discuss recent reports that he is working on a sequel to his blockbuster reenactment film "The Passion of the Christ."
In June, screenwriter Randall Wallace, who wrote classics like "Braveheart," "Pearl Harbor," and "We Were Soldiers," told Hollywood Reporter that he and Gibson are working on a follow-up to "The Passion of the Christ" that focuses on Christ's resurrection. In that interview Wallace said, "The Passion is the beginning and there's a lot more story to tell."
The 60-year-old Gibson, who directed and produced the 2004 film, was asked by Laurie about the rumors circulating around Wallace's claims and asked if a follow-up to "The Passion" is really going to happen.
Gibson told Laurie, the senior pastor of the California-based Harvest Christian Fellowship, and over 36,000 people gathered at the home of the Los Angeles Angels of Anaheim that he and Wallace are in fact, "talking about" the possibility of a follow-up film, which he said would be called "The Resurrection."
"We're talking about that. Of course, that is a huge undertaking," Gibson said. "And you know, it's not the 'Passion 2.' It's called 'The Resurrection.' Of course, that's a very big subject and it needs to be looked at because we don't want to just do a simple rendering of it — you know, read what happened."
"But in order to read it, experience and explore probably deeper meanings of what it's about, it's going to take some doing and Randall Wallace is up to the task," Gibson continued. "He is also, as well as a brilliant writer, he is a great director. He directed 'We Were Soldiers' and 'Heaven is for Real' and stuff. So, he is a good writer and director."
Laurie then asked Gibson about his upcoming film "Hacksaw Ridge," which is based on a true story, directed by Gibson. The film, which comes out in November, details the heroics of U.S. Army medic Desmond Doss during World War II.
Doss, a Seventh-day Adventist conscientious objector, is credited with saving the lives of as many as 75 of his comrades while under enemy fire during the Battle of Okinawa of in 1945.
"Desmond Doss received the Congressional Medal of Honor for courage under fire. He was singular in that most guys who get the Medal of Honor, they do something in a split second and it's a decision that they do something courageous and heroic," Gibson explained. "Desmond did what he did over and over and over again in different places in the Pacific. His greatest achievement was in Okinawa, where he saved a lot of men.
"Another interesting thing about Desmond was that he was a conscientious objector and he went into battle without a weapon as a medic and what he did was super-natural and He only did it through faith. He was armed only with his faith."
Gibson asserted that while Doss was a "man of faith and conviction," he could not have done what he did without the power of God.
Laurie was invited by Gibson to see a preview of the film and proclaimed "Hacksaw Ridge," to be "the best depiction of a Christian in a mainstream film that I have seen since [the 1981 film] 'Chariots of Fire.'"
"He was a hero and you show him standing up for his faith, reading his Bible, praying, taking a lot of abuse from his fellow soldiers who call him a coward," Laurie said. "When it was all said and done, he was far from a coward."
While Gibson is known for great Hollywood successes such as "Mad Max," "Lethal Weapon," "Braveheart" and "We Were Soldiers," he explained that he likes to do movies with a Christian message like "The Passion of the Christ," "Hacksaw Ridge" and possibly "The Resurrection" because real superheroes "appeal to something greater than themselves."
"Faith is a real thing. I think that often times, I made the ultimate superhero film in the 'Passion of the Christ.' Someone like Desmond Doss is also a superhero and real superheroes don't wear spandex and they don't have a lot of 3-D special effects," Gibson stressed. "But, they do operate on a higher level, on a supernatural level. They actually look and appeal to something greater than themselves and then they do something super human."