Drag troupe with links to anti-Catholic 'Sisters' removes member arrested for indecent exposure from website
Man identified as 'queer nun' on social media told followers to 'Be Gay, Hail Satan'; authorities say he was publicly masturbating 'for approximately one hour'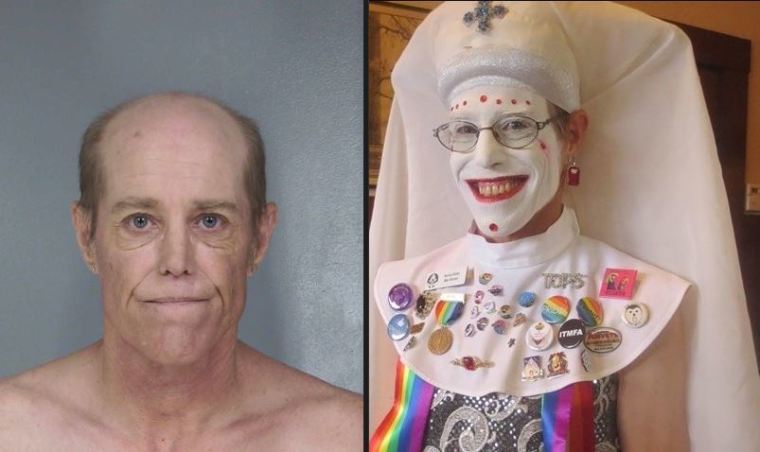 A controversial California drag troupe has removed the name of a member who was arrested for indecent exposure from its website. 
Clinton Monroe Ellis-Gilmore, 53, of Eureka, was arrested Aug. 12 in Humboldt County for allegedly exposing himself in the driver's seat of a car parked near South Jetty Road and Table Bluff Road in Loleta, about 15 miles south of Eureka, according to the Humboldt County Sheriff's Office.
Authorities say Gilmore was "reported by multiple witnesses to have been sitting in his truck with the door open, masturbating for approximately one hour."
"The conduct was not directed at anyone in particular," a sheriff's spokesperson told The Christian Post.
Gilmore was taken into custody without incident. He was booked for indecent exposure and then released.
The most recent Facebook page for Gilmore includes a bio identifying him as a gay Army veteran as well as a "trophy husband" and "anti-theist." The page also features a number of pro-LGBT and anti-Christian posts.
Gilmore's social media page also indicates that he was a member of the Abbey of the Big Red Wood, a nonprofit group known as Eureka Sisters, which is affiliated with the drag troupe Sisters of Perpetual Indulgence, a national — and some say blasphemous — network of men who wear makeup and dress as Catholic nuns. The group is known for hosting a sexually provocative "Hunky Jesus" competition and a drag Easter egg hunt every year in San Francisco.
In a June 2021 post, Gilmore shared an image of himself wearing attire imitating a Catholic nun habit and makeup with the caption, "Novice Sister Man Romeo, Queer Nun with the Eureka Sisters of Perpetual, Abby (sp) of the Big Red Wood."
Another
post
shared on Gilmore's timeline on July 17, 2021, shows what appears to be Gilmore in full makeup with the caption: "Novice Sister is going Nunning today. This is the first Face I have put on in over a year. I am obviously rusty. I never was great at makeup anyway, but geez.... I cannot even put my lipstick on straight, no pun intended. That is okay though, Novice Sister's mission is not about her makeup, it is about Promulgating Joy. I am happy to be back it. Hopefully my lipsticking will improve soon."
While Gilmore's name did not appear in a CP search Tuesday of the Abbey of the Big Red Wood's website, "Novice Sister Man Romeo" did appear in an archived version of the site under "active members."
Bill Gilmore, who is identified as Ellis-Gilmore's spouse on his page, is also listed on the "Saints and Angels" page of the Abbey website.
It's unclear when or why Ellis-Gilmore's name was removed from the site. A request for comment by CP was not returned as of Tuesday afternoon.
In addition to pro-LGBT imagery and graphics, Ellis' Facebook profile contains a number of disturbing posts, including one image from October 2022 of a rainbow-colored goat head with the words "BE GAY HAIL SATAN."
In another post from April 12, he shared a sketch of a bare-chested horned man with the words, "Satan's lap master in satin, approves this message You are not broken. You are worthy of Joy. Go forth and [sin] some more."
In a May 20 post, Ellis wrote, "In case you need gentle encouragement or permission to Indulge in YOU ... to experience JOY ... you have it" and shared an image of a card that includes the lines, "The Sisters of Perpetual Indulgence" and "You are hereby pre-forgiven for all sins committed in the next 24 hours."
"May pleasure be your god, lust your temple and sex your sacrament," the image also reads.
Perhaps most disturbingly,  Ellis shared an image on May 5 of a "no cross" symbol and the words, "Believe in yourself."
The Sisters of Perpetual Indulgence have earned the scorn of the Catholic League and other groups for their blasphemous and satanic imagery. 
In May, the group was invited, canceled and then re-invited to Dodger Stadium for the team's pride event despite backlash from both conservative and religious groups.