Men Using Girls' Bathrooms: Controversial Pro-Gay Ordinance Goes Into Effect If Activists Are Unable to Repeal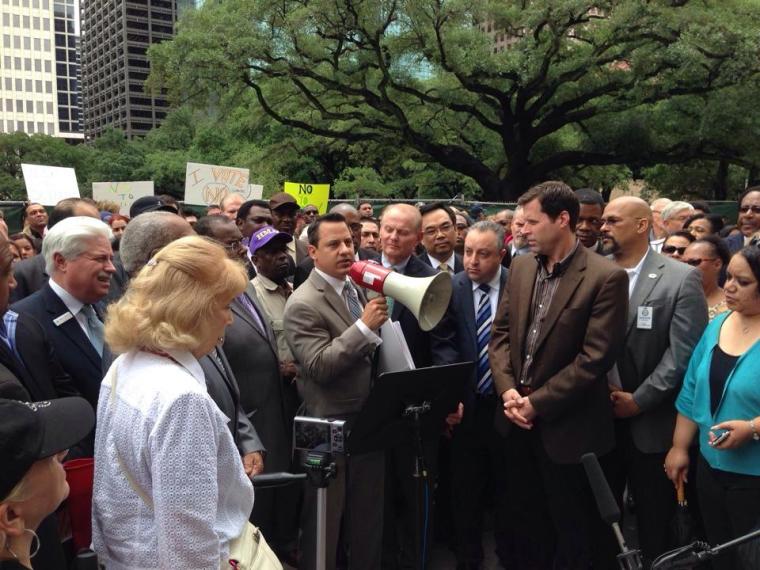 An effort to repeal a controversial anti-discrimination ordinance in Houston, Texas, that purportedly would allow men to use women's bathrooms has until Thursday to garner enough signatures to be considered or put to a vote on the November ballot.
In May, after an 11-hour meeting, the Houston City Council approved an "Equal Rights Ordinance" by a vote of 11 to 6. The ERO amends Chapters 2, 15 and 17 of Houston's Code of Ordinances, prohibiting discrimination in public facilities and private employment on the basis of "protected characteristics."
Critics of ERO have claimed that it will have several unintended consequences, such as allowing transgendered men to use women's bathrooms.
"The city has admitted that the public accommodation section of the anti-religious liberty ordinance will protect men who want to use women's bathrooms if they dress up as women,"Jonathan Saenz, a conservative activist and president of the pro-repeal group Texas Values Action, told The Christian Post.
Saenz also noted that there are strong concerns about the ordinance, especially regarding the issue of religious liberty for business owners.
"City Attorney David Feldman admitted at a public hearing that this ordinance will be used to prosecute photographers who do not want to participate in photographing same-sex wedding-like ceremonies," he said.
The label of protected characteristics includes race, color, ethnicity, sex, national origin, age, familial and marital status, military status, religion, disability, genetic information, pregnancy, sexual orientation and gender identity.
The deadline for repeal was initially presumed to be last Friday, but has been extended to Thursday, July 3.
"Further information became available to determine that the official publication date of the new law was June 3, so we have 30 days from that point to collect and submit signatures," explained Saenz.
While not commenting on the exact number of signatures gathered as of Monday, Saenz told CP that he was confident that they will have enough names to challenge the ordinance.
"We remain optimistic that we will have the 17,000 signatures needed to force the city to repeal the ordinance or place the ordinance on the November ballot," said Saenz.
"If we do in fact secure the necessary amount of signatures, the city will be forced to suspend the enforcement of the ordinance."
While Houston city government officials declined to provide comment to CP about the movement to repeal the ordinance, Annise Parker, the city's openly gay mayor, described its significance to MSNBC soon after she signed the ordinance into law.
"It is by no means the most important thing I will accomplish as mayor," said Parker to MSNBC in late May. "But it is personally meaningful to me because I understand what the hundreds of people who came before Council to describe their experience and the pain and discrimination they face daily."
The ordinance provides certain exemptions, including entities owned by a "bona fide private club," groups like any "social, fraternal, educational, civic or religious organization," state and federal government facilities and military discounts.