Michael Brown Killed by Cop After Physical Confrontation, Says Police Chief; Witnesses Claim Unarmed Teen Had Hands Up When Shot Several Times
Missouri Teen's Fatal Shooting Protested by Furious Residents as His Dead Body Lies Uncovered in Street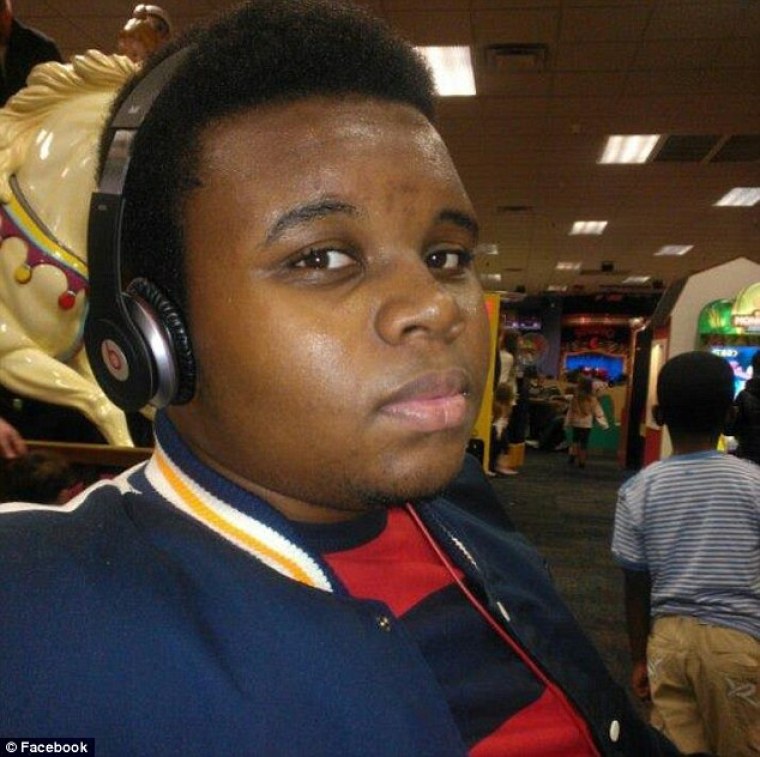 Michael "Mike" Brown's limp and bloodied body was lying in the street of the housing complex where he was visiting his grandmother for several hours on Saturday, after the unarmed 18-year-old Missouri man was taken down by a series of bullets fired from a single police officer's gun.
There were conflicting reports concerning the killing of Brown by the Ferguson police officer at the Canfield Green Apartments. Brown was shot at approximately 2:15 p.m., with witnesses claiming he was hit by 8-10 bullets while holding his hands up in the air.
St. Louis County Police Department Chief Jon Belmar said during a Sunday morning press conference that before he was gunned down, Brown allegedly had "pushed a police officer back into the car" when the officer tried to exit his vehicle. Brown allegedly physically assaulted the police officer while in the car, according to Chief Belmar, and the two struggled over the officer's weapon. The chief said at least two shots were fired inside the police vehicle. Brown and the Ferguson police officer exited the vehicle, at which point the confrontation turned deadly. According to Chief Belmar, investigators have not determined the exact number of times Brown was shot, but told reporters the 18-year-old was shot "more than just a couple of times" but he did not think it was "many more than that."
Watch the press conference featuring Chief Belmar's full remarks below:
Dorian Johnson, a friend who was with Brown at the time of the shooting, said that they encountered the police officer while walking in the middle of the street at the Canfield Green Apartments. Johnson said the officer told them to use the sidewalk.
Johnson told KMOV-TV news station in the immediate wake of the shooting that after an exchange of words, the police officer shot Brown. "He (the officer) shot again and once my friend felt that shot, he turned around and put his hands in the air."
Johnson added, "He started to get down and the officer still approached with his weapon drawn and fired several more shots."
Another witness, Piaget Crenshaw, 19, told the St. Louis Post-Dispatch that she saw a police officer attempting to put Brown in the squad car. According to Crenshaw, Brown put his hands in the air and attempted to run off. The young woman said several shots hit Brown as he ran.
The officer who killed Brown has been placed on paid administrative leave while the investigation is ongoing. While the officer's identity was not revealed, it was noted that he has been on staff with the Ferguson Police Department for about six years.
Watch a video news report of Brown's police-shooting death:
Brown's death sparked immediate outrage among residents of the Canfield Green Apartments, who turned out en masse to protest the youth's killing. Gunshots were fired, with no injuries reported, a trash can was set on fire, and some protesters yelled obscenities and threats to "kill the police." Videos and photos captured at the scene also reveal residents calling for justice and chanting "we are Michael Brown," as one Vine loop posted online by Antonio French, alderman of the 21st ward in St. Louis, shows:
The heated and emotional response from residents was met by heavy police presence that included officers armed with assault rifles and accompanied by dogs. Reportedly more than 100 police officers from 15 departments were present at the scene, with some officers dressed in riot gear.
Demonstration after the murder of #MikeBrown . Victim apparently had hands up like these folk when executed by police pic.twitter.com/tPQFkQl3Yt

— ??Léa Playa Roswell? (@LeaRoswell) August 10, 2014
#FergusonPolice all roll-up 2 arrest any1 getting rowdy/out of control, after they murder an unarmed black youth! pic.twitter.com/sYVjNuqmz1

— Brenda Hawkins (@iheartwestbrook) August 10, 2014
#MikeBrown unarmed teenager gun down by white cop shot 8times #WarOnWhitePeople@GOP inspired pic.twitter.com/EzAxIrLdC8

— Carreramae (@carreramae) August 10, 2014
Residents remained on the scene for several hours. As the St. Louis Post- Dispatch reported:
A calm settled over the area after mourners gathered at a prayer circle — watched over by a St. Louis County police officer sitting atop a SWAT vehicle — and then a candlelight vigil as darkness fell. The acrimony briefly resurfaced about 8:30 p.m. as demonstrators again swarmed the street chanting, "We Are Michael Brown" as wary police officers stood nearby with assault rifles. At one point, residents held up their hands, saying, "Don't shoot me!" as police officers with barking dogs tried to keep order. Approximately 100 protesters then went to the street outside Ferguson police headquarters and chanted, "No Justice! No Peace!"
Brown, who his mother, Lesley McSpadden, said was anticipating starting his studies at Vatterott College on Monday, was in the neighborhood to visit his grandmother. The woman, Desuirea Harris, told news outlets she was driving through the neighborhood at the time when she spotted her grandson running a few blocks from her house. Soon after, she was confronted by her grandson's dead body lying in the street.
"When I got up there, my grandson was lying on the pavement. I asked the police what happened. They didn't tell me nothing," Harris told the Associated Press.
"He was a good kid. He didn't live around here. He came to visit me and they did that to him for no reason," added Harris.
Brown's mother defended her son in the wake of his death, saying that he "doesn't kill, steal or rob. He doesn't do any of that."
As for local authorities, McSpadden added, "You're not God. You don't decide when you're going to take somebody from here."
In addition to photos and videos of the protest, some of those present at the scene of the fatal shooting took photos of Brown's body lying in the street and uploaded some of those images to the Internet, where they have sparked strong reactions.
In some images, the young man's is seen lying face down with a trail of blood flowing from his body. One of those images, censored by The Christian Post, is shown below. The uncensored original photo of Brown's uncovered body can been seen on Twitter.