Michael Brown Shooting: Police Confirm 'Killer' Name Released by Hacking Group Anonymous Is Wrong as Ferguson Protests Erupt
Michael Brown Shooting: Police Confirm 'Killer' Name Released by Hacking Group Anonymous Is Wrong as Ferguson Protests Erupt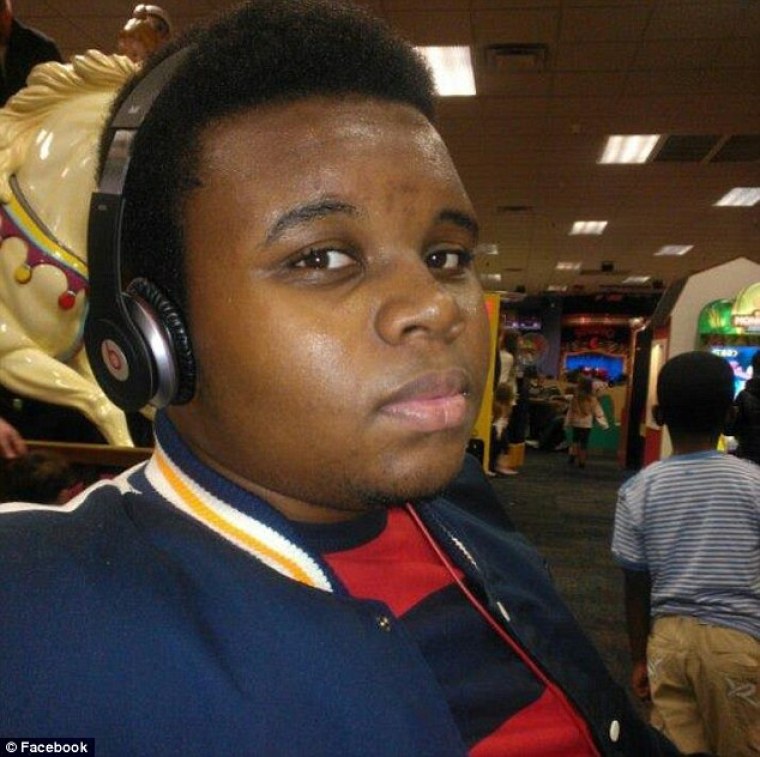 The man accused by hacktivist group Anonymous of killing Missouri teen Michael Brown is not a police officer, authorities have confirmed.
On Thursday Anonymous released the name and picture of a man it claimed is responsible for Brown's death, however, the St Louis County police denied this is true via social networking site Twitter.
They also confirmed that the officer who did in fact fatally shoot Brown in Ferguson on Saturday will not be named publicly unless he is prosecuted. He has been placed on paid administrative leave pending an investigation.
"[He] is not even an officer with St. Louis County or Ferguson ... We will not provide the involved officer's name or any further information ... It is an ongoing investigation ... We only release suspect information after the investigation is complete and charges have been issued," the SLCP wrote in a series of tweets.
Anonymous released what it claims is audio from St. Louis County dispatch on Wednesday so that the public could "get a sense of the atmosphere the moments before and the hours after Mike Brown was shot," according to a YouTube description. The audio has not yet been deemed authentic.
The officer shot Brown, who was unarmed at the time of his death, up to eight times and some eyewitnesses say it was unprovoked.
Police Chief Thomas Jackson said his department is withholding the officer's name due to "death threats."
Benjamin Crump, who is representing the Brown family, slammed Jackson's decision. In 2013 He represented the family of slain teen Trayvon Martin, who like Brown was unarmed when he was shot and killed by George Zimmerman.
"That doesn't give the community confidence. That doesn't make it transparent," Crump said recently. "And remember, we've got a long way to go before this community starts to believe that the police are going to give them all the answers and not try to sweep it under the rug."
The St. Louis County Prosecutor's office recently confirmed that Brown, who was just 18 when he was killed, had no criminal record.
What exactly occurred in the events leading up to Brown's death remains a point of contention.
Dorian Johnson, who says he was with Brown when the shooting occurred, claims they were simply "walking having a conversation" down the street when police pulled up and ordered them to "get the f— onto the sidewalk."
He said things quickly turned physical on the officer's part and ended in a deadly shooting.
"I saw the barrel of the gun pointed at my friend. Then I saw the fire come out of the barrel," Johnson told MSNBC. "I could see so vividly what was going on because I was so close."
He claims the officer attempted to open his car door so close to the men that it "ricocheted" and "bounced back," frustrating the officer.
"I guess that got him a little upset," Johnson said of the officer.
The officer then reportedly grabbed Brown's neck from within his squad car (Brown was allegedly outside the car) and the pair struggled for a few moments. As the teen attempted to escape, the officer pursued him.
Johnson claims Brown's hands were raised in the air when the officer fired the fatal shots.
Police have painted a different picture. They say Brown shoved the officer into his squad car, attacked him and that the two struggled over the officer's gun.
The case has sparked nation-wide racial unrest and the city of Ferguson is currently on its fifth night of protests.
On Wednesday 500 protesters faced-off with armed SWAT police officers chanting 'Hands Up! Don't Shoot!'
Some eyewitnesses complained of tear-gas canisters and rubber bullets being fired by officers into crowds. Others say molotov cocktails were hurled at police.
Antonio French, an alderman from the 21st ward in St. Louis, along with two journalists were among an estimated dozen people arrested during the domestic protest.
Ryan Reilly of the Huffington Post and Wesley Lowery of The Washington Post spoke of their arrests. They claim they were not read their Miranda Rights and that they were not told the names of their arresting officers.
"The worst part was he slammed my head against the glass purposefully on the way out of McDonald's and then sarcastically apologized for it," Reilly told MSNBC upon his release.
Lowery shared a similar experience. He claims he was "slammed into a soda machine" by overzealous officers.
US President Barack Obama extended heartfelt condolences to the Brown family and urged protesters to refrain from violence as the case is investigated.
"The death of Michael Brown is heartbreaking, and Michelle and I send our deepest condolences to his family and his community at this very difficult time," Obama said in a statement Tuesday. "... The Department of Justice is investigating the situation along with local officials … We should comfort each other and talk with one another in a way that heals, not in a way that wounds."