Michael Douglas Moves Out After Denying Catherine Zeta-Jones Divorce Rumors?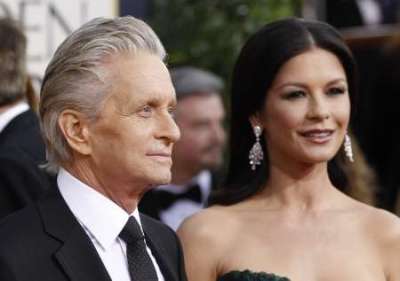 Michael Douglas was recently photographed moving bags out of the Manhattan apartment he shares with wife, Catherine Zeta-Jones, just days after insisting their marriage is "fine."
TO SEE PHOTOS OF MICHAEL DOUGLAS ALLEGEDLY MOVING OUT CLICK HERE
Dressed is casual clothes and looking seemingly glum the "Wall Street" actor, 68, was spotted transporting a number of bags out of the luxury apartment and into a waiting vehicle on Thursday, fueling speculation that he has moved out. Douglas recently confirmed his separation from Zeta-Jones, 43, however suggested that reports of a divorce after 13-years of marriage are false.
"I have a crisis at home? No, I think the press has a crisis. We, we are fine. My wife and I are, are fine. We take a temporary separation, but the press, it gives you stuff to write about," Douglas said while promoting his new Liberace biopic in Berlin, Germany, according to the New York Daily News.
Zeta-Jones, who shares two children, Dylan, 13, and Carys, 10, with Douglas, has only spoken about the matter publicly through her rep in recent days.
"Catherine and Michael are taking some time apart to evaluate and work on their marriage," the rep told Us magazine.
In recent years Douglas and Zeta-Jones, who wed in 2000 in a lavish ceremony in New York City, have faced a series of challenges particularly the actress' recurring struggles with bipolar II disorder and Douglas' 2010 battle with Cancer.
"Our sources tell us there were several factors," Peter Castro, deputy editor for People, told ABC News. "It's undeniable that his throat cancer and her bi-polar disorder created a perfect storm of tension and issues that were really hard to overcome."
Critics suspect that Douglas' controversial comments about the cause of his throat cancer may have added strain to the couple's marriage. In a June interview with The Guardian newspaper the actor blamed the disease on Human papillomavirus (HPV) which he allegedly contracted during oral sex.
"...Without wanting to get too specific, this particular cancer is caused by HPV [human papillomavirus], which actually comes about from cunnilingus," Douglas said in the interview.
Zeta-Jones, who did not publicly react to the interview, was reportedly furious over her husband's candid comments.
"He gave very candid interviews about his sexual past that she really bristled at. She was not happy about his comments and that sort of got the ball rolling in terms of the split," Castro said.