Michael Vick Reveals the Bible Verse That Gave Him 'Reason to Believe' in Prison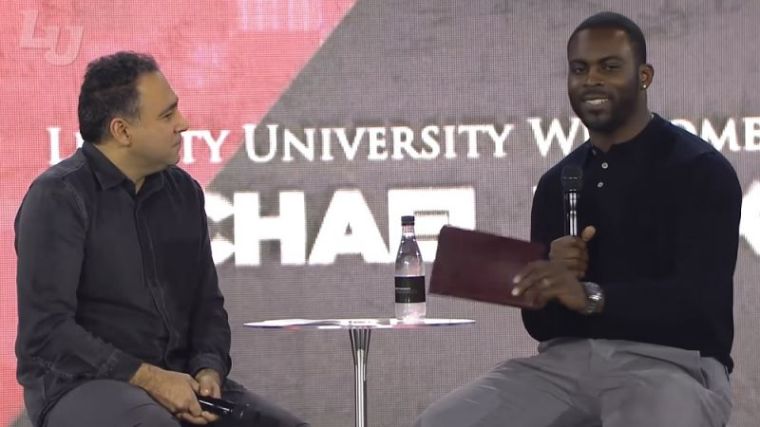 Former NFL Star Michael Vick shared with Liberty University students the Bible verse that gave him a "reason to believe" when he was jailed for nearly two years during the prime of his playing career.
"My mom told me before I went in, 'Psalm 23 will get you through,'" Vick remembered. 
The 37-year-old four-time pro-bowl quarterback, who was jailed in 2007 for his involvement in a dog fighting ring in which dozens of dogs were victimized, spoke about his journey back to God during Liberty University's convocation on Tuesday.
Vick, who did not come from an overly religious family, explained that he first picked up the Bible around the age of 12 because he thought it would give him the "edge" he needed to fulfill his goal of one day becoming an NFL player.
Although he didn't fully understand what he was reading in the Bible, Vick said that he tried his best to make sense of what he was reading and even slept with his Bible under the pillow.
After having an illustrious high school football career and a great career playing football at the Virginia Tech University, Vick became the first player selected in the 2001 NFL draft by the Atlanta Falcons and would later sign a 10-year, $130 million contract with the team.
It was with the Falcons that Vick became a household name, appeared on the cover of EA Sports' Madden NFL 2004 video game and signed a multimillion dollar shoe deal. However, Vick said that the the one thing that he did not bring with him to Atlanta was the Bible.
"When I got drafted and I got that $100 million deal and when I went to Atlanta, this didn't come with me," Vick said as he held up his Bible. "I must have left it under the pillow in the neighborhood that I grew up in. I really felt like I did it on my own. I totally forgot about the prayers that I had at night — numerous prayers, numerous nights where I asked God to forgive me for all my sins."
Despite Vick's devotion to reading the Bible from the age of 12, he explained that he did not read the Bible at all from the time he was drafted to the NFL in 2001 until he was placed in federal prison at Leavenworth, Kansas, in 2007. He may have only said a total of 10 prayers during those six years.
"The correlation is that I lost sight of everything that I felt that I needed in order to become the man that I wanted to become," Vick said. "From all the role models that I had from my high school coach to my uncles to [former Virginia Tech head football coach] Frank Beamer, I just left everybody behind."
Having spent a total of 548 days behind bars, there was plenty of time for Vick to analyze where he went wrong. It didn't take long for Vick to return to the Word of God for comfort and strength.
"All those years I was going through the Bible and trying to interpret what was being said and trying to understand it. When I went to [prison], it gave me strength. It gave me a reason to believe," he said. "It empowered me in such a way where empathy and sympathy became important and perseverance became important and being a role model became important — all these things that I forgot about, all these things that was unimportant to me all of a sudden became important again."
Liberty University English Professor Karen Swallow Prior wrote in response to Vick's convocation comments that it is "fitting" that Vick, who was convicted of leading dogs to their death, would find solace and strength in the words of Psalm 23 — which refers to the Lord as "my shepherd."
"The way we, as human beings, relate to helpless creatures dependent upon us can teach us a great deal about our dependence upon God," Prior, a research fellow at the Southern Baptist Convention's Ethics & Religious Liberty Commission, wrote. "This is precisely the picture drawn in Psalm 23. It's a picture of human humility in the face of our helplessness, the very opposite of the arrogance, Vick said, that was the root of his animal cruelty and his abandonment of God."
In trying to get back on the right path, Vick was also mentored by former Indianapolis Colts head coach Tony Dungy, a devout Christian and an NFL hall of famer. Vick recalled meeting Dungy in 2009, about four months before Vick was to be released from prison.
"We sat in the visitation room. He wanted to know that I was remorseful and he wanted to know that I was willing and ready to accept the fact that I did wrong and the fact that there were going to be different people in my life, different mentors, different role models that I would have to embrace at the age of 27 after going five or six years of thinking I knew everything and I had all the answers," Vick said.
"The conversation was very surreal. He was talking and I was digesting every word that came out of his mouth because Tony is real. He has this subtle type of personality but everything he says means a lot. I just wanted to soak everything in and get away from him as fast as I could and get back into my unit and just digest every word that he had said."
Vick was released from prison in July 2009. He returned to the NFL and played seven more seasons with teams such as the Philadelphia Eagles, the Pittsburgh Steelers and the New York Jets. Last August, Vick was hired to serve as an analyst for Fox NFL Kickoff on FS1.