Michigan Homeowner Arrested for Shooting at Lost Black Teenager Asking for Directions
Michigan Homeowner Arrested for Shooting at Lost Black Teenager Asking for Directions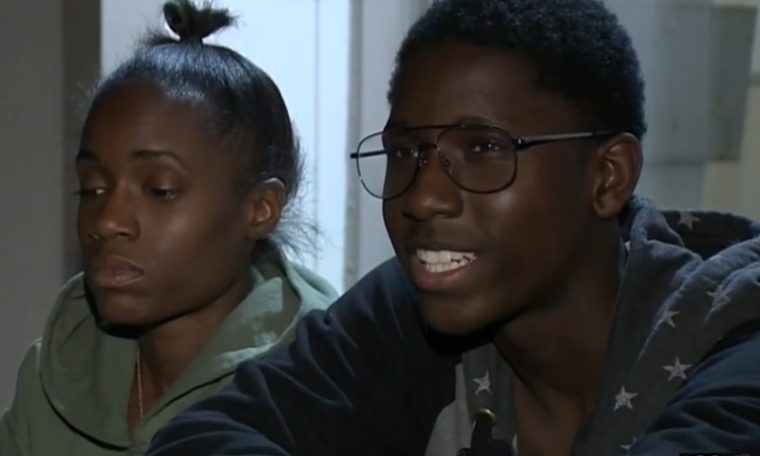 A Michigan homeowner is now in police custody after he allegedly shot at a lost black teenager who knocked on his door seeking help with directions in getting to school.
Brennan Walker, 14, told ClickOnDetroit that he missed the school bus Thursday after he woke up late. He decided to walk to school, approximately four miles away, depending on his memory of the route to Rochester High School.
The teenager was unable to access maps on his cellphone at the time because his mother, Lisa Wright, had confiscated it as punishment earlier. Wright works an overnight shift job and doesn't get off until 8 a.m. Brennan has to get himself on the bus on time each morning.
Brennan tried finding a shortcut to get to school and went through nearby neighborhoods but got lost. He reportedly approached one house first and was given directions by a homeowner. He got lost again, however, and approached a second house on South Christian Hills Drive and that's when a gun was pulled on him.
"I knocked on her door a few times and she came down yelling at me before I could say anything and she thought I was trying to break into her house," Brennan told WXYZ about the encounter. "I was trying to explain to her that I wanted to get directions to go to my school. I told her no, I go to Rochester High I'm just looking for directions to Rochester High."
Security video from the home reportedly shows the woman who responded to Brennan then yelling for her husband who grabbed his shotgun.
"The man of the house came down, pretty much just grabbed the shotgun to shoot at my son," Brennan's mother told WXYZ.
Exclusive Op-eds from the Presidential Campaigns
"I saw it. I saw him holding it like this through the window and I guess I put my hands up, I don't really remember, and I started to run," Brennan said. "I looked back behind me I saw him aiming at me and I turned back. I heard the gunshot. And I tried to run faster."
Oakland County Sheriff Michael Bouchard said the gun-toting homeowner will face criminal charges because of the way he responded to the teenager.
"If someone is running from your house and [you] chase them outside and shoot at them, you're going to have criminal charges coming from us," Bouchard said.
Brennan's mother alleges that video evidence shows the shooting as racially motivated.
"After watching the video and hearing the wife say 'why did these people choose my house' I knew it was racially motivated. I don't know what other 'these people' she possibly could have been talking about. He was by himself," she said.
Brennan is happy to be alive but he remains in shock and is still trying to process what happened to him.
"I didn't want to believe that that type of stuff could happen here," he said. "I don't, I don't know how you process getting shot at for asking for directions."
Another black teenager, Renisha McBride, 17, was not as lucky as Brennan. One rainy November morning in 2013 she knocked on the door of 55-year-old white homeowner Theodore Wafer to get help after her car crashed near his Dearborn Heights neighborhood in Michigan.
Wafer, an airport maintenance worker, told authorities he was in fear of his life when he saw her outside his home so he opened his front door and shot her in the face with a 12-gauge Mossberg shotgun.
Wayne County Circuit Court Judge Dana Hathaway wept as she sentenced Wafer to at least 17 years in prison for killing McBride, nearly a year later.
"This one of the saddest cases," Hathaway said, according to Reuters. "An unjustified fear is never an excuse to take someone's life."
Jonathan Ferrell, 24, a former Florida A&M University football player, was also shot dead by a police officer when he tried getting help in an upscale Charlotte, North Carolina, neighborhood at 2 a.m. in September 2013 after his car crashed nearby. A scared homeowner called police after he knocked on her door.