Mike Huckabee Says Clinton's VP Tim Kaine's Faith Is 'Real'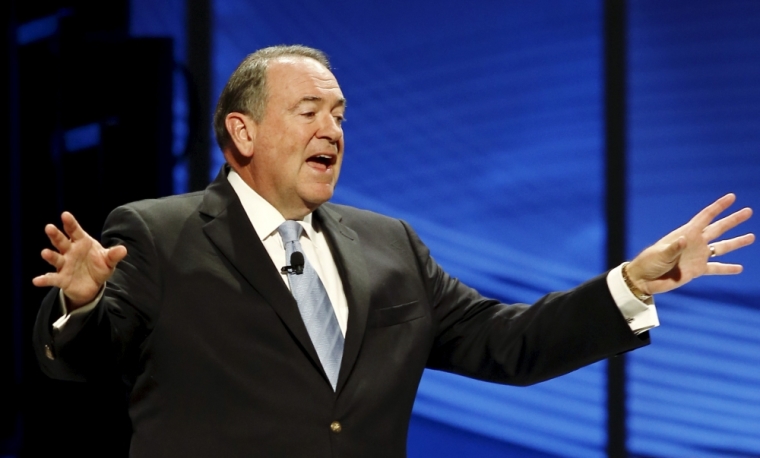 Former Arkansas Gov. Mike Huckabee Saturday reacted to Hillary Clinton's VP choice, criticizing Sen. Tim Kaine's pro-abortion votes but also praising him as a "genuine" guy whose "faith is real."
"Let's be clear, Tim Kaine is definitely a liberal. And even though he says he's personally against abortion, he still always governs with a pro-abortion vote," Huckabee said on Fox News, adding that he doesn't know "what that's supposed to mean."
But, Huckabee also said, that on a personal level, he believes that Kaine is "an honorable guy."
"By that I mean that when I have been around him, his faith is real," Huckabee explained, and recalled how Kaine helped after Hurricane Katrina in 2005.
When Kaine was governor of Virginia, he was "part of a group that went down there and painted houses for the group from Habitat Humanity, Huckabee said. "It wasn't just a photo op," and that's when Huckabee realized that Kaine is "a genuine guy."
"There's an authenticity about him," Huckabee continued. "That's good because there's not much authenticity about Hillary. So in many ways, he is the polar opposite of Hillary. He does actually believe what he says. He's not somebody who puts away his faith when it's inconvenient for him."
Clinton debuted her running mate Saturday, calling Kaine "everything that Donald Trump and Mike Pence are not." She added that Kaine is "progressive who likes to get things done."
However, Trump's campaign appears to be using Clinton's running mate decision to say that his Democratic opponent is a status quoist.
"If we went to central casting for someone who gives us the clearest contrast against the Trump-Pence ticket, they couldn't have picked a better person from our perspective," a senior Trump adviser told CNN. "They are doubling down on the status quo. They are doubling down on the system as it currently stands."
Trump's senior communications adviser Jason Miller released a statement, saying, "If you think Crooked Hillary and Corrupt Kaine are going to change anything in Washington, it's just the opposite. It's only fitting that Hillary Clinton would select an ethically challenged insider like Tim Kaine who's personally benefited from the rigged system."
However, Kaine spokeswoman Amy Dudley denied the allegations, saying Kaine "went beyond the requirements of Virginia law, promptly disclosing any and all gifts received, including those beneath the reporting threshold. All disclosure information – the vast majority of which was for work-related travel expenses rather than gifts – has been publicly available for years and never once raised any concerns of impropriety."