Mike Huckabee Teases Justice Ginsburg for Not Attending Trump's State of the Union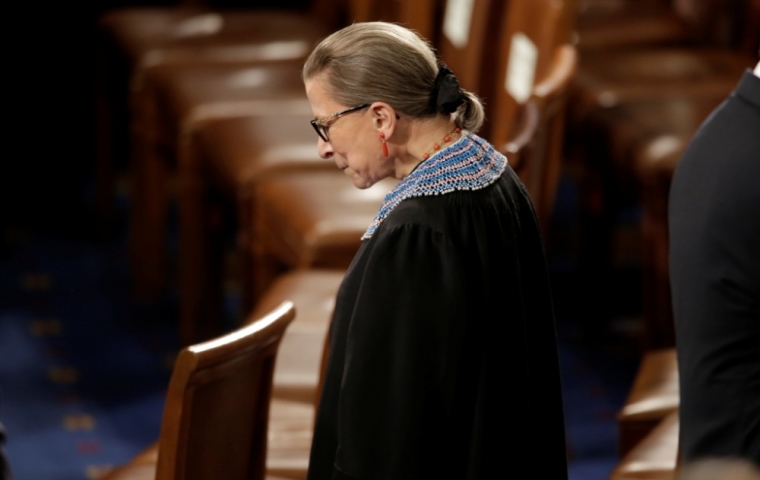 Former Arkansas Gov. Mike Huckabee teased Supreme Court Justice Ruth Bader Ginsburg for her decision not to be in attendance at President Donald Trump's first State of the Union address on Tuesday.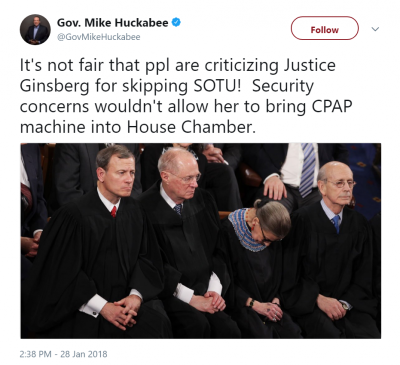 "It's not fair that ppl are criticizing Justice Ginsberg for skipping SOTU! Security concerns wouldn't allow her to bring CPAP (Continuous Positive Airway Pressure) machine into House Chamber," Huckabee tweeted with a photo of Ginsburg sleeping during one of President Barack Obama's State of the Union addresses. 
Huckabee was responding to reports that the eldest Supreme Court justice will be at Roger Williams University in Rhode Island for her speaking tour on the day of the State of the Union address. CPAP is a machine used to treat sleep apnea. 
Vanity Fair contributing editor and MSNBC contributor Kurt Eichenwald found the joke distasteful. 
"You're disgusting. How christian of you to make jokes about elderly people," he replied to the tweet. 
Christopher J. Scalia, the son of the late Justice Antonin Scalia, also responded to the reports, which highlighted his father's absence in President Obama's State of the Union speeches.
"Some of the stories about Justice Ginsburg skipping Trump's State of the Union mention that my father didn't attend Pres Obama's SOTUs—which is true, but not the whole story. He stopped attending them altogether in the late 90s," he wrote on Twitter.
"You just sit there, looking stupid," Scalia was once quoted by CNN as saying, about attending State of the Union addresses.
Ginsburg, who is 84 years old, called Trump a "faker" in 2016. In response, Trump tweeted at the time, "Justice Ginsburg of the U.S. Supreme Court has embarrassed all by making very dumb political statements about me. Her mind is shot - resign!"
This year marks the 25th anniversary of Ginsburg's nomination by President Bill Clinton and her confirmation as the second woman on the court.
"I think that Justice Ginsburg has made clear that she has no intention of retiring. I am sure she wants to stay on the court until the end of the Trump presidency if she can," The Associated Press quoted Erwin Chemerinsky, the dean of the law school at the University of California, Berkeley, as saying.
In 2009, when Ginsburg had a second cancer surgery for pancreatic cancer, Sen. Jim Bunning, a Republican from Kentucky, remarked that she would die within a year, only to apologize later, according to the AP.
About a year later, Ginsburg mentioned the remark in a speech, saying, "I am pleased to report that, contrary to Sen. Bunning's prediction, I am alive and in good health."