Mike Piazza Celebrates His Mom and Gift of Catholic Faith During Hall of Fame Induction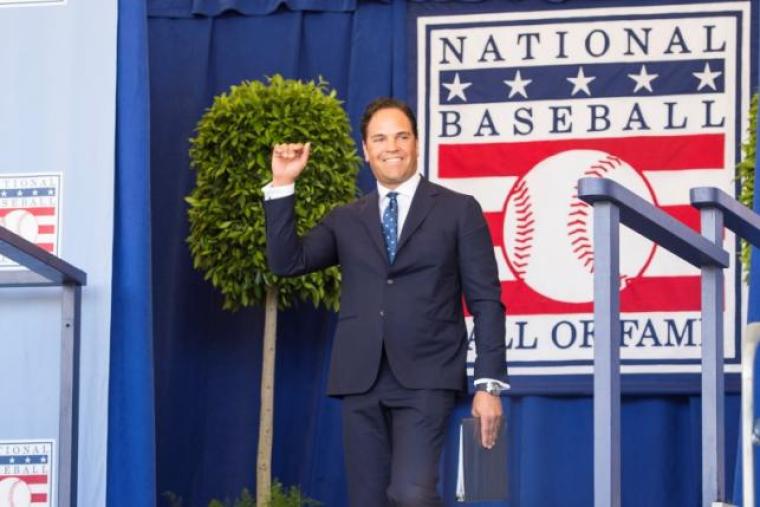 Before Mike Piazza gave an emotional speech at his Baseball Hall of Fame induction ceremony on Sunday, the former New York Mets catcher received a special blessing during a 7:30 a.m. mass.
The 47-year-old retired MLB star attended St. Mary's Our Lady of the Catholic Church in Cooperstown, New York, where he was blessed on the church steps by Father John Rosson. During Piazza's tearful acceptance speech to the Hall of Fame, he highlighted the importance of his Catholic faith.
According to Piazza, his mother, Veronica, instilled that faith in him.
"She gave me the gift of my Catholic faith, the greatest gift a mother could give a child, which has had a profound impact on my career and has given me patience, compassion and hope," Piazza said while accepting his induction into the Hall Of Fame.
He added, "Pope Benedict the XVI said, 'One who has hope, lives differently.' Mom, you raised five boys, and you were always there for me.'"
According to USA Today, Piazza prayed for strength when he sat in the back pew of the early morning Sunday service. During his speech, the baseball star thanked his family, supporters and team, but also took time to praise Jesus.
Piazza reflected on the time he played in the first game after the Sept.11, 2001, terror attacks and how he saw Jesus in that moment as first responders ran toward the twin towers of the World Trade Center in New York City.
"Jesus said there is no greater love than to lay down one's life for his friends. I consider it an honor and privilege to have witnessed that love," Piazza said, remembering the police officers and firefighters who responded on the scene after the attacks. "Your families and those left behind are always in my prayers. I pray we never forget their sacrifice and work to always defeat such evil."
"To witness the darkest evil of the human heart and witness that as it tore many loved ones from their families, will forever be burned in my soul. But from tragedy and sorrow came bravery, love, compassion, character, and eventual healing," Piazza continued. "Many of you give me praise for the home run on the first game back, but true praise belongs to police, firefighters, and first responders, who knew that they were going to die, but went forward anyway."
During a previous interview with BeliefNet, Piazza spoke about how his faith has been instrumental throughout his baseball career, saying: "I truly believe my whole professional career has been a blessing from God. And it's been a great gift. I know I worked hard, and you have to apply yourself, but I still feel that you have to have a lot of blessings from above. And anybody who plays this game, you have to be very spiritual, because it's very frustrating at times."