Miller Lite facing possible boycott over 'woke' women's ad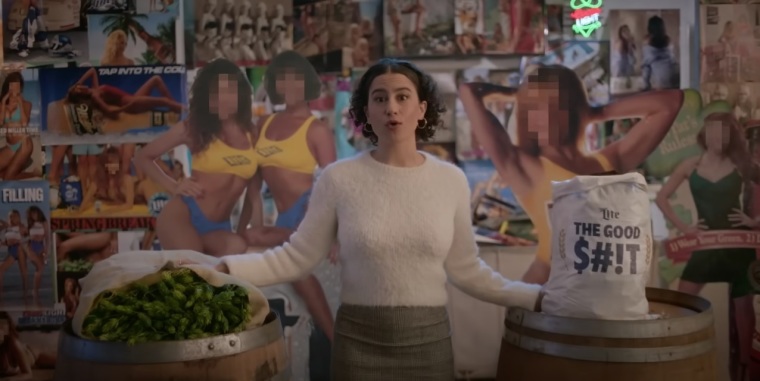 Miller Lite is garnering backlash and even calls for a boycott in response to recent attention being given to an ad campaign released earlier this year that critics consider too "woke."
Back in March, Miller Lite released an ad in which comedian Ilana Glazer talks about how beer companies used to use sexualized images of women to sell their drinks but now Miller was repudiating this practice.
Titled "Bad $#!T to Good $#!T," the ad explains that Miller was buying old ads and using the remains as compost to fertilize the soil to grow the components for their beers. Glazer urged members of the American public who have suggestive images she described as "s---" to ship them to Miller Lite so they can be composted. 
"Women were among the very first to brew beer ever," Glazer explained. "Centuries later, how did the industry pay homage to the founding mothers of beer? They put us in bikinis."
"It's time beer made it up to women. So, today, Miller Lite is not just on a mission to clean up their s---, but the whole beer industry's s---."
While released in March, the ad campaign has gotten recent negative attention, with multiple conservative groups and individuals calling for a boycott of Miller Lite in response.
"Miller Lite apparently wants the Bud Light boycott treatment too," tweeted conservative influencer Rogan O'Handley on Monday. As of Tuesday morning, his post had received over 2,500 likes and more than 295,000 views.
"Newsflash: After a hard day's work, working class beer drinkers don't want to be lectured like they're in a Gender Studies class at SUNY-Oswego."
The Media Research Center, a prominent conservative group known for their fact-checking of liberal news media outlets, posted the short statement on Facebook Monday, writing, "Time to boycott Miller Lite," which has over 5,000 likes as of Tuesday morning.
"Miller Lite feminist ad blurs the faces of women in bikinis, destroys their ads, makes it into fertilizer, for being offensive," tweeted Richard Hanania, president of the Center for the Study of Partisanship and Ideology. He characterized "this kind of ugly (literally and figuratively, for ugly women) feminism" as "much more harmful than anything Dylan Mulvaney did," expressing hope that it leads to a boycott.
For its part, Miller Lite viewed the ad campaign as part of its observance of Women's History Month, which is celebrated in March, and as a way of correcting past misogyny.
"This Women's History Month, Miller Lite wanted to recognize that without women, there would be no beer," said Elizabeth Hitch, senior director of marketing for Miller Lite, in a statement released back in March.
"To honor this we wanted to acknowledge the missteps in representation of women in beer advertising by cleaning up not just our $#!T, but the whole industry's $#!T while benefiting the future of women and beer."
As Hanania indicated in his tweet, Miller Lite is not the only beer company to face backlash over a marketing campaign derided by critics as "woke." Last month, Bud Light garnered controversy for partnering with trans-identified social media influencer Dylan Mulvaney as part of an advertising campaign, prompting backlash from multiple celebrities and others.
As a result, Bud Light suffered a 21% decline in sales, with an even higher drop among those who typically buy the product in bulk, according to a report by the New York Post earlier this month.