'Million Muslim March' Confronted by Christians in DC; 'Two Million Bikers' in Seperate Rally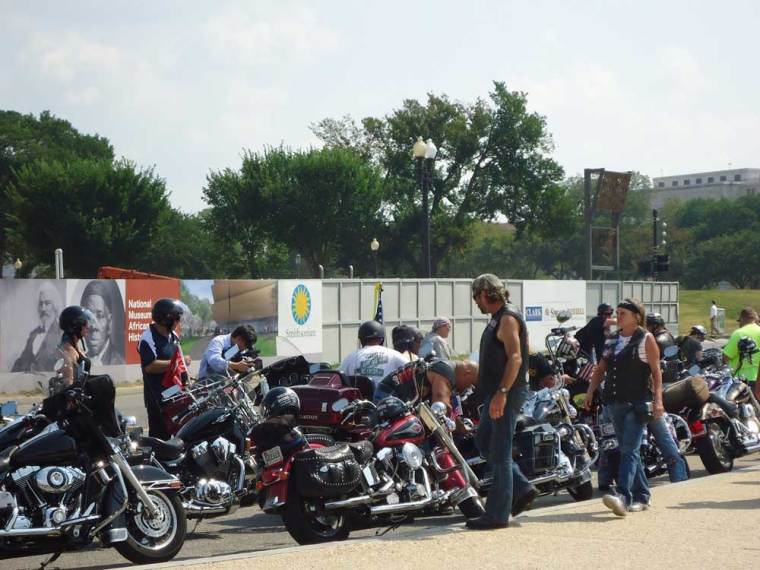 A group of Christians has confronted members of the "Million Muslim March" holding protests in Washington, D.C., against discrimination, while at the same time close to 2,000 bikers from the group "Two Million Bikers to D.C." are currently riding down the nation's capital in honor of the victims of the Sept, 11, 2001 attacks.
"In the past 12 years since 9/11 the United States government as failed to protect and promote Constitutional liberties and human life, here and abroad," organizers from the American Muslim Political Action Committee said in a statement. "We feel that accountability in government has been ignored and the time has arrived to collectively speak truth to power."
The 20 or so Christians confronted a group of around 25 Muslim protesters in front of the White House on Wednesday, NBC Washington.com reported. The Christians apparently held signs reading "Muhammad is a liar," though it was not immediately clear if they were from a specific church or organization.
The Missouri-based AMPAC is commemorating the attacks of Sept. 11, 2001 by staging protests aimed at raising attention for what they say is discrimination against Muslims. The group argued in another statement: "Muslim and non-Muslim alike were traumatized, but we as Muslims continue 12 years later to be victimized by being made the villains."
"These guys are basically exploiting an annual commemoration of an attack in which America lost over 3,000 lives to radical Islam," Dr. Zuhdi Jasser, author of A Battle for the Soul of Islam: An American Muslim Patriot's Fight to Save His Faith and president of the American Islamic Forum for Democracy(AIFD), told The Christian Post in a Tuesday interview. "It's part of this lobby of Islamist groups in America that believe America is to blame rather than taking ownership."
The "Two Million Bikers to D.C.," on the other hand, have said on their Facebook page that their demonstration is aimed at standing by the Constitution and Bill of Rights, and have said that they are "against any fundamental transformation of America."
Although the National Park Service denied a request from the group to close some intersections near monuments and on Capitol Hill in D.C., WTOP.com noted that the bikers are still holding their rally.
"It's very important and it's from all ethnical backgrounds, all religions – it's just, we're all Americans and we need to support our country the best we can," said Nicholas Montefusco from Huntersville, Pa., one of the bikers participating in the ride, who said that Americans should never forget the significance of Sept. 11.
Here is a related video: