Mississippi's Only Abortion Clinic Sues State Over 15-Week Abortion Ban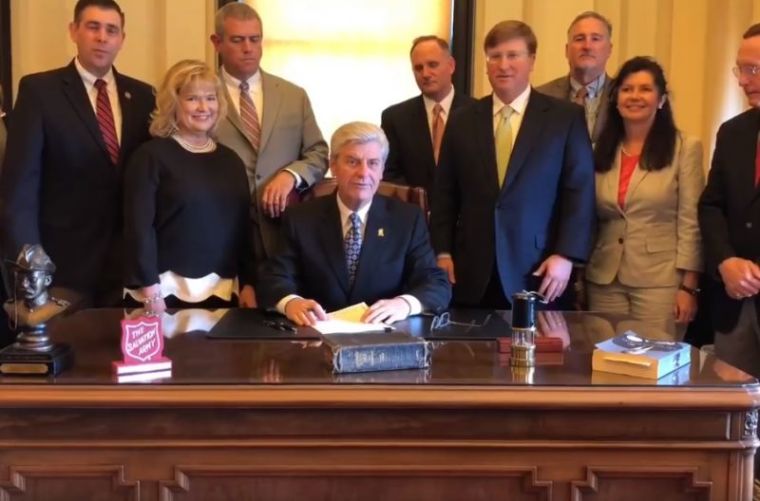 Mississippi's sole abortion facility has filed a lawsuit against the state over the recent passage of a law that bans most abortions after 15 weeks, the earliest time in a pregnancy for any state ban in the nation.
Governor Phil Bryant signed House Bill 1510 into law on Monday, pushing back the state's 20-week abortion ban to 15 weeks.
In response, Jackson Women's Health Organization filed a suit on Monday in U.S. District Court for the Southern District of Mississippi against the law.
"Under decades of United States Supreme Court precedent, the state of Mississippi cannot ban abortion prior to viability, regardless of what exceptions are provided to the ban," read the clinic's complaint.
The abortion clinic is being represented by the Center for Reproductive Rights, whose president and CEO Nancy Northup said in a statement Monday that the new law was a denial of women's rights.
"Mississippi politicians have shown once again that they will stop at nothing to deny women this fundamental right, targeting the state's last remaining clinic in defiance of the U.S. Supreme Court and decades of settled precedent," stated Northup.
"Politicians are not above the rule of law, and we are confident this dangerous bill will be struck down like every similar attempt before it."
Earlier this month, Mississippi lawmakers passed HB 1510, a measure that bans abortions after 15 weeks' gestation, unless the abortion must be performed due to a medical emergency or severe fetal abnormality that would prevent the baby from surviving outside the womb.
Any doctor who performs an abortion in violation of the law would be guilty of a felony and could face up to 10 years in prison.
In advance of signing the bill, Governor Bryant had expressed his support for HB 1510 on social media, stating on Twitter that "I want Mississippi to be the safest place in America for an unborn child."
Groups like the Jackson-based Pro-Life Mississippi celebrated the passage of the bill, with the organization posting a statement on their Facebook page declaring that HB 1510 "recognizes the biological reality that babies in the womb at 16 weeks have a heartbeat and DNA unique from the parents."
"These human beings in the womb deserve the right to life, which is supported by this law," stated Pro-Life Mississippi on Monday.
"We appreciate Governor Bryant and our legislators who have supported bills like this one that are grounded in science and protect human life."