MIT Gunman Hoax: Campus on Lockdown After Man With Rifle, Body Armor Reported (VIDEO)
MIT Gunman Hoax: Campus on Lockdown After Man With Rifle, Body Armor Reported (VIDEO)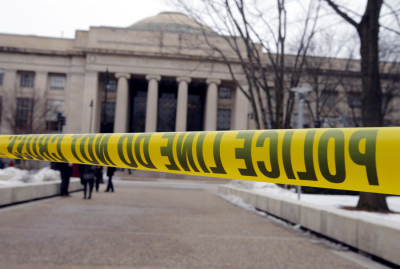 Reports of an MIT gunman have been confirmed to be a hoax on Saturday. News of a gunman prowling the MIT campus wearing body armor had sent shockwaves through the university campus on Saturday morning, however, it now appears it was all a hoax.
According to reports, Cambridge police received news at about 7.30 a.m. on Saturday that there was a gunman on the MIT campus, sparking a frenzied panic where authorities quickly dispatched numerous units to the school.
The school was placed on immediate lockdown, and the university's website was redirected to an emergency warning page to spread news of the gunman and to warn students and workers on campus to remain vigilant.
The warning stated:
This morning information was received from Cambridge Police that there was a person with a long rifle and body armor in the Main Group Building of MIT. Multiple law enforcement agencies have responded. Stay indoors and shelter in place and report suspicious activity to the campus police dispatch at 617 253 1212 or dial 100 from a campus phone.
It was also reported that emails were sent to staff on campus explaining the gun threat.
However, after the police conducted a search of the school's Main Group Building they found no signs of a gunman, and they quickly announced that the campus was clear and that the reports of a gunman were false.
By 10 a.m. the campus lockdown was taken off, and things started getting back to normal.
It has been reported by MIT Tech staff reporter John Hawkinson that the warning about a gunman was sent to Cambridge police by an email on Saturday morning, but that the IP address used to send the email was based in New York City.
Details of the incident are still be investigated and more information is set to become available later in the day.
Here is a video report on the incident: