Modern Miracles: 5 Stories For Bible Skeptics From 'It's a God Thing'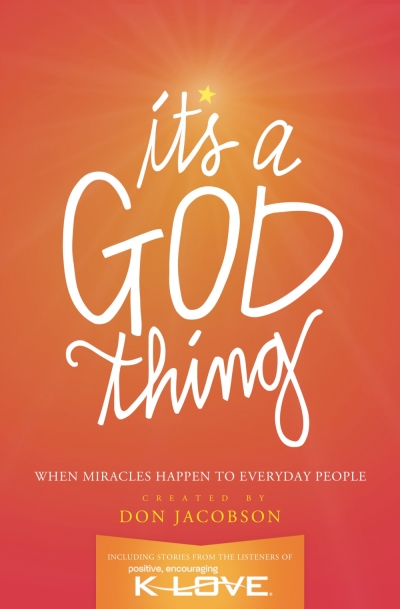 A new anthology of modern miracles aims to show Bible skeptics that God does wonders and invites them to see the miracles in their own lives.
"I hope that the collective witness of these authors would make someone say, maybe this could be real," Don Jacobson, a miracle survivor and publisher, told the Christian Post in an interview this week. Jacobson's forthcoming project and book It's A God Thing: When Miracles Happen to Everyday People, chronicles 45 modern miracles.
Below are 5 of the miracle stories featured in the book.
1. The Dog, The Chicken, and The Bomb
When David Newkirk, now a youth pastor at Church of the Open Door in Glendora, California, woke up in the middle of the night, he was still exhausted from a college basketball victory the day before.
"Twenty minutes after my head hit the pillow, I was catapulted out of the deepest sleep," he writes in the book. Along with his mother and sister, he was jerked awake to pray for his brother Dan.
Dan was in Israel. Running out of money, he had chosen to sleep on a park bench for the night. In the wee hours of the morning, a snarling dog woke him up, battling with a chicken under the bench.
Unable to break up the animals, Dan found another bench and resumed his rest. The next morning, a bomb exploded right next to the first bench, hurtling it through the air, leaving "a mess of tangled metal and concrete."
2. 9/11: Escaping the World Trade Center
Lolita Jackson wrote the first attack on the World Trade Center in 1993 "brought old colleagues together and served as folklore to share with new employees in the years that followed." But it was 9/11 that saved her life.
When the planes hit the twin towers on that fateful day in 2001, she and her colleagues hastened to leave. One of her colleagues, Tom, stayed on another floor to make a quick call to his wife, but a voice told Jackson to keep going – Tom died only a few seconds behind her.
Jackson testified that God led her to the stairwell closest to where her building was hit, enabling her to leave the World Trade Center at 9:26 am.
As she left, one of her friends told her to board the subway immediately, which saved her the "profound physical and emotional trauma as a result of being on the street as the buildings collapsed."
3. Didn't You See Him?
Denise Meyer almost lost her mother and her children on a lake in Wisconsin.
When the boat capsized, Meyer lost sight of her two children. God gave her uncommon strength to lift her 2-year-old son Tim out from under the boat. Miraculously, he had found a pocket of air, so the ninety seconds underwater did not drown him.
After Meyer's mother found her 4-year-old daughter Emily and everyone was back safely ashore, the grandmother started having a heart attack. "Had the heart attack started when we were in the water, she would surely have drowned," the witness wrote.
Even then, God still had another miracle to reveal. When Emily was underwater, she had seen a man no one else had noticed. "Grandma," she exclaimed, "the man under the water! He grabbed my foot and put it in your hand!"
Jacobson said this story reminded him of Hebrews 13:2, where Paul urges Christians to be hospitable because some have entertained angels without knowing it. "If God's going to let anybody see them, it's going to be those who still have the faith of children," Jacobson said.
4. Does God Watch Baseball?
Donald L. Jacobson, Sr. took his son out for a baseball game, and prayed on a whim, "Lord, it would sure be nice if I could get a baseball for my boy."
After this prayer, Ray Fosse, a famous catcher for the Portland Beavers, hit a home run, and the ball whizzed straight to the senior Jacobson's feet.
"Miracles are not always big," the father wrote. "Sometimes it is the small ones that shout the loudest of God's love and care for each of us."
"I've still got the ball," Jacobson Jr., the project's creator, told CP.
5. Redeemed
The last story in the book, obtained for CP by special request, recounts God's grace toward Paul Holway, a man whose pain – and a possible demonic possession – led him to murder his own 8-year-old sister when he was twelve.
After 5 years in prison, Holway got addicted to drugs, alcohol, and women. Finally, in a point of desperation, he went to church, shared his life with a pastor, and prayed for God's forgiveness.
"Forgiveness changes everything, but it is not a miracle drug," Holway wrote. Putting his life back together proved difficult, but Jesus' hope restored him. "He loves us unconditionally, regardless of our messed-up lives."
"That's the greatest miracle of all these miracles – that we're redeemed," Jacobson said.