Mormons Can Jump: Missionaries Hustling Street B-Ballers in Half-Court Game Goes Viral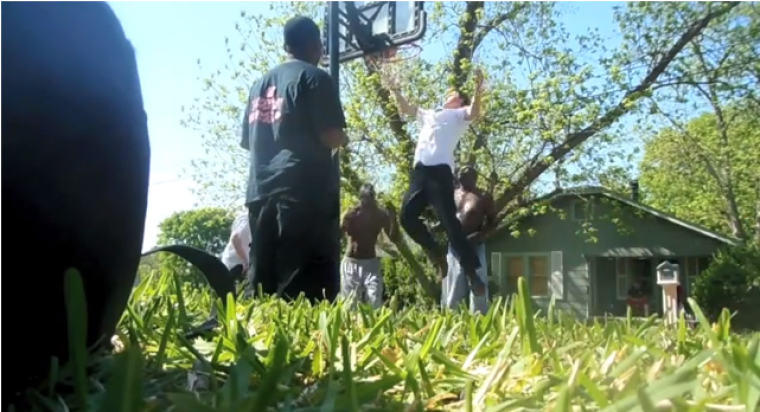 Two Mormon missionaries serving in Henderson, Texas, have become Internet sensations after a YouTube video showing them outplaying a group of street basketball players still dressed in their signature uniforms went viral this week.
On Wednesday, a copy of the video which was uploaded to YouTube on Monday, had been viewed more than two million times before it was removed.
The original, titled "Mormon Missionary Ballers (ORIGINAL)" was posted to YouTube by Jared Allen on July 31, 2013, and had been viewed more than 100,000 times as of Wednesday afternoon.
In the video, the missionaries first feign the extent of their basketball skills by shooting several bricks before a group of black players. Once they are divided into teams and the game starts, however, the Mormons begin flying and firing at the basket, sinking layups and making dunks to the surprise of the other players who quickly acknowledged through hysterical laughter that they had been punked.
"I thought they were about to get clowned, man," said one man watching the game. "They're doing the clowning!"
Allen provides a brief background to the event.
"My cousin, Cole, a missionary in Dallas, Texas, has been dying to play some street ball and got the chance.
After playing it cool asking to play because they are "Just some white boys," they were allowed to play and tried to make it look like they weren't that good. That is until they started to play. Turn up the volume and laugh hysterically. "Cole proves that white boys can jump," wrote Allen in the about section of the video.
The beauty about the event, however, is that the unconventional approach led to a baptism.
"Best part of the story is that one of the guys daughters ended up getting baptized," noted Allen.
As for his Mormon cousin, Allen said: "He actually was on a state champ basketball team where he can dunk a regulation size hoop. He has over a 40" vert. But doing this in his dress shoes is even better."
KSL Utah, reports that one of the missionaries in the video is 19-year-old Elder Cole Payne from Lindon, Utah, who was on the Orem High championship basketball team in high school.
Elder's father, Wade Payne, noted in the KSL report that his son was just three months into his mission when the game occurred and he told the family about it on a phone call on Mother's Day.
"They didn't know this at the time, but they were already teaching the daughter of the one guy that (Elder Payne) dunked over," his father noted.
The man's daughter was baptized in late May and Elder Payne was later transferred.
Wade Payne also explained that he is happy about the way his son has used basketball in ministry.
"I think it's good because anything that helps these guys interact with locals is good," he said. "It puts a good view on the church as long as they're having fun and doing it that way."
Also a Utah All-State football player, Elder Payne will be playing wide receiver for Southern Utah University when he returns from his mission.