Most Americans don't want Trump or Biden to run for president in 2024: poll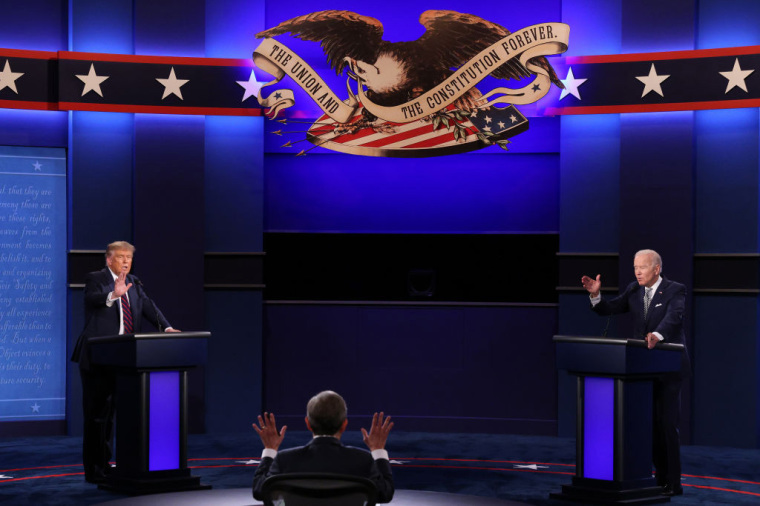 Most Americans don't want former President Donald Trump or President Joe Biden to run in the 2024 election, according to a recently released NBC News poll.
In a poll of 1,000 adults conducted April 14-18 with a margin of error of plus or minus 3.1%, 70% of voters said they did not want Biden to run for reelection. This included 51% of Democrat respondents.
Regarding Biden, who turned 80 last November and is the oldest sitting president in United States history, 48% of those who did not want Biden to run for reelection cited his age as a "major reason," while 21% considered it a "minor reason" and 29% did not see it as a reason.
Who's running for president in 2024? Click here to find out
Among surveyed registered voters, 41% said they would either "definitely" vote for Biden in the general election or "probably," while 47% said they would "definitely" or "probably" vote for his Republican opponent.
Additionally, 60% of respondents said that they do not want Trump to run for president, which included around a third of Republican respondents. Another 35% said he should run, while 5% said they were unsure.
Among respondents who plan to vote in the Republican Primary, 46% listed Trump as their first choice, putting him in first place, with Florida Gov. Ron DeSantis placing second with 31% and former Vice President Mike Pence in a distant third with 6%.
Democratic pollster Jeff Horwitt of Hart Research, which conducted the poll with Republican pollster Bill McInturff of Public Opinion Strategies, told NBC News that he believed a "sequel" of the 2020 election is likely.
"At this stage, 2024 is shaping up to be a sequel of the 2020 election," said Horwitt to NBC News. "Sequels are frequently hits at the box office, but apparently not at the ballot box."
On Tuesday, Biden officially announced his intention to run for reelection in 2024, campaigning on his record and championing ideas like codifying the right to an abortion at the federal level.
"I said we are in a battle for the soul of America, and we still are. The question we are facing is whether in the years ahead we have more freedom or less freedom. More rights or fewer."
A poll from The Associated Press-NORC Center for Public Affairs Research that was released in February found that only 37% of Democrat respondents want Biden to run again in 2024. 
Last December, a USA TODAY/Suffolk University Poll from last December found that around 60% of respondents who identified as Republican or right-leaning independent did not want Trump to run again.