Most religious groups becoming more Republican, data show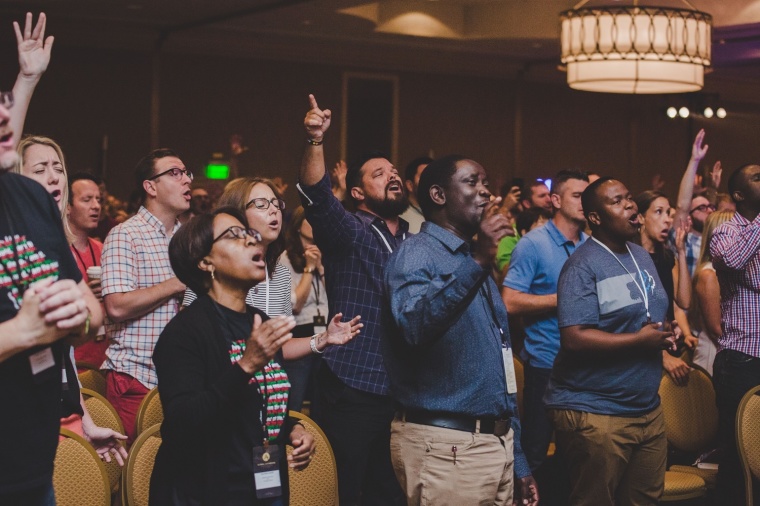 Most religious groups in the United States, including mainline Protestant denominations like the United Methodist Church, have become more Republican since 2008, according to a political science researcher.
Ryan Burge of Eastern Illinois University analyzed data from the Cooperative Congressional Election Study, between 2008 and 2018, using two-year intervals. He looked at 34 different religious groups in the United States who had at least 100 respondents in the biannual survey.
In an analysis published last week by Religion in Public, Burge found that of the 34 faith traditions charted, 27 of them leaned more Republican in 2018 than they did in 2008. Only seven became more Democrat. 
Burge noted that the average shift for all of the groups from 2008 to 2018 was +0.13 on the scale, with a positive change associated with becoming more Republican while a negative change meant becoming more Democrat.
Among surveyed religious groups, major shifts rightward included "Independent Baptist" at 0.69, "American Baptist Churches in USA" at 0.43, "Other Pentecostal Church" at 0.72, and "Eastern or Greek Orthodox" at 0.61.
The United Methodist Church, which has in recent months endured a divisive debate over LGBT issues, shifted rightward by 0.34 from 2008 to 2018, according to the report.
Rightward shifts were also documented for non-Christian traditions like Buddhists (0.29), Agnostics (0.14), and Jewish (0.1).
The religious category that went the most leftward during the time period were respondents who identified as "Mormon," with an overall shift of -0.31.
Other groups that leaned more Democrat in 2018 than in 2008 included atheists (-0.28), nondenominational Fundamentalist (-0.23), and "other" (-0.16).
"Taken together," Burge concluded, "this evidence strikes a blow to the argument that there is polarization among Protestant Christian traditions. Looked at here, the overwhelming narrative is that Protestants are more and more Republican every two years. ... American religion is becoming more and more synonymous with the Republican Party while those who have no religious affiliation tend to be the (weak) base for the Democrats. If one wants to be an active Christian but disagrees with Republican politics, where do they go? Despite the fact that most Democrats do currently claim a religious affiliation, it seems that the places of refuge are dwindling every year."
Burge's analysis of a rightward shift in most religious groups comes as many candidates in the crowded Democratic presidential primary field address faith issues.
Emma Green of the Atlantic noted in a story published earlier this month that "Faith has come up often in the 2020 Democratic race so far."
"In her campaign-kickoff speech, Senator Kamala Harris of California nodded to the faith of abolitionist and civil-rights leaders, arguing that 'to love the religion of Jesus is to hate the religion of the slave master,'" wrote Green.
"Senator Elizabeth Warren of Massachusetts referred to the Book of Matthew in a CNN town-hall interview in mid-March while talking about the importance of fighting poverty. At a similar CNN event, Senator Cory Booker of New Jersey told potential voters that 'Christ is the center of my life,' and quoted Jewish teachings in Hebrew."
Democrat candidate and openly gay South Bend, Indiana Mayor Pete Buttigieg garnered attention for recent comments in which he argued that entering a same-sex marriage strengthened his Christian faith.
"My marriage to Chasten has made me a better man — and yes, Mr. Vice President, it has moved me closer to God," stated Buttigieg at an LGBT Victory Fund event, as reported by USA Today.
"And that's the thing I wish the Mike Pences of the world would understand, that if you've got a problem with who I am, your problem is not with me. Your quarrel, sir, is with my creator."
In response, conservative commentator Erick Erickson argued that Buttigieg's comments against Pence and others against President Donald Trump showed "why progressive Christianity is so corrupt and flawed."
"As much as Buttigieg makes a valid critique on the president's behavior and evangelicals' excusing that behavior, Buttigieg wants to reject the inconvenient parts of faith he does not like," wrote Erickson earlier this month.
"Buttigieg wants to use the social obligations as Christians against the president, but wants to avoid any implication on the personal obligations of Christians in terms of clear biblical sexual ethics and how we are to live our lives applying our faith even for 'the least of these."