Mother of Fallen Navy SEAL Depicted in 'American Sniper' at Texas Megachurch: 'I Knew God Hadn't Changed... He Would Get Me Through This'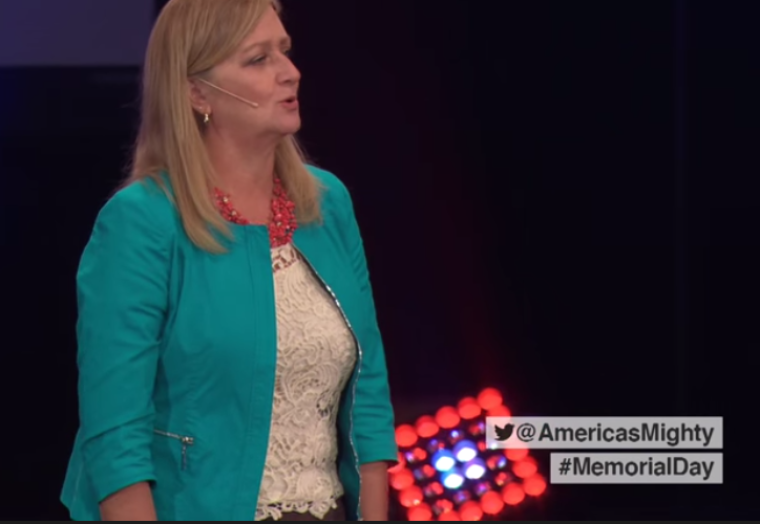 Debbie Lee, mother of the first Navy SEAL to give his life in Iraq, spoke at Ed Young Jr.'s Fellowship Church in Grapevine, Texas, on Sunday, urging greater education on the meaning of Memorial Day and for congregants to reach out to Gold Star families.
Lee's son, Marc Alan Lee, was the first Navy SEAL killed in action in Operation Iraqi Freedom in August of 2006. Lee was killed in Ramadi while exposing himself to enemy fire as a medical team evacuated a wounded Navy SEAL. Lee was posthumously awarded the Silver Star, the Bronze Star with Valor and the Purple Heart.
"I've been on a campaign for probably eight or nine years to try and educate people about Memorial Day," Lee declared. "Memorial Day is not Veterans Day. It is not Armed Forces Day. This is not the time we corporatlly or nationally recognize our veterans that served.
"This is the time that we remember the sacrifices of each man and woman that have given their life in combat and on the battlefield for the freedoms we enjoy each and every day," she said, further elaborating on the common misconception about the meaning of Memorial Day in the United States.
"When I was a child I initially thought it was a time to honor those who died in your family."
Lee explained that remembering those who served and died in battle on Memorial Day doesn't mean you can't have fun or enjoy family time during the national holiday, and emphasized that those who sacrificed wouldn't want that.
"Please take advantage of the day and go to a cemetery and walk through the headstones and see what conflict they died in. See how old they were," she continued, noting that
she won't be visiting her son's grave this Memorial Day, but had made plans to visit the grave of Navy SEAL sniper Chris Kyle.
Lee's son, Marc, was portrayed by actor Luke Grimes in the 2014 film "American Sniper," which is based on Kyle's book, American Sniper: The Autobiography of the Most Lethal Sniper in U.S. Military History.
A Gold Star mom, Lee also encouraged congregants at Fellowship Church to reach out to Gold Star families, saying, "It means so much to us."
"As I worked with Gold Star families, that is what is most important them, they just don't want their loved ones to be forgotten."
She also talked about the devastating day she was informed of her son's death in combat. "As a parent that is the most devastating news you could ever hear. But in that moment I knew God hadn't changed. I knew that He would get me through this, even though I knew it would be even harder than getting through the loss of my husband."
Lee highlighted Psalm 27 as an important passage in her life during that time. "Marc's name means mighty warrior, and I'm sure everybody agrees he lived up to that name. My desire is that each one of you would know that sacrifice of our Lord Jesus Christ."
Following her son's death in Iraq, Lee launched the America's Mighty Warrior Foundation, which is "fighting to support our troops, the fallen and their families and to work with like-minded organizations to do the same."
Marc and his teammates from SEALTeam 3 are now the most highly decorated special ops unit since the Vietnam conflict.
In his last letter home, Marc wrote: "So to all my family and friends, do me a favor and pass on the kindness, the love, the precious gift of human life to each other so that when your children come into contact with a great conflict that we are now faced with here in Iraq, that they are people of humanity, of pure motives, of compassion."