Mr. T Brings 'Dancing With the Stars' Judges to Tears Before Elimination in Rendition of 'Amazing Grace'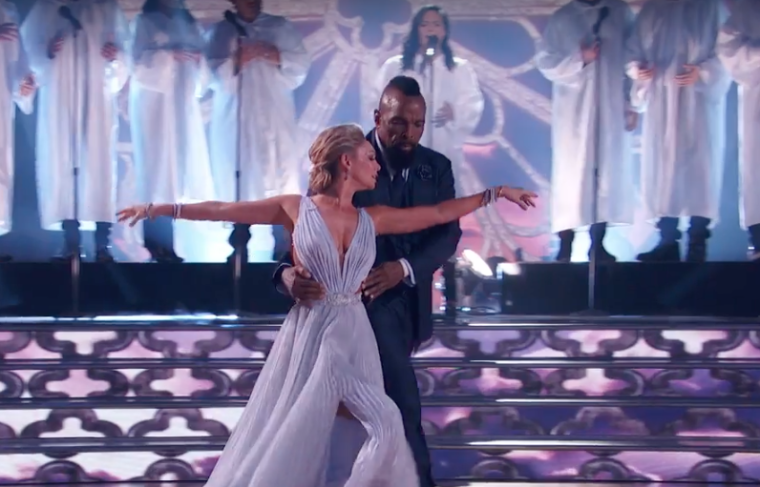 Actor and retired professional wrestler Mr. T left "Dancing With the Stars" judges in tears with his testimony and a stunning dance routine to "Amazing Grace" before exiting the show Monday night.
During his segment on the dance competition series, Mr. T discussed his cancer battle in 1995. He testified that he had to solely rely on his faith in God and he took that message to the ballroom.
"Back in the day, I had money, cars. I had achieved what I wanted to achieve and then everything really stopped," Mr. T said in a video featured before his performance. "I called on God. I said, 'God, give me strength to do your will.' That's when it really hit me: What's really real? My faith in God, that was real, because only God could save me."
The 64 year old and his professional dance partner, Kym Johnson-Herjavec, chose to perform the waltz to "Amazing Grace" in remembrance of his "most memorable year week." The episode highlighted different moments in all of the celebrity dancers' lives that was most important to them and they each danced to a song that represents those major life events.
Mr. T spoke openly about his cancer struggle, his days in chemotherapy and the challenge it was for him. Both Mr. T and Johnson-Herjavec were shown crying while preparing for the waltz.
After the captivating dance the audience and judges were noticeably moved by the "Rocky III" actor's vulnerability.
Carrie Ann Inaba couldn't hold back how much she loved the dance as she burst into tears moved by the power of his faith.
"You are definitely winning our hearts," Inaba said. "Your faith radiated out of you in that dance and provided us all with like another level of faith ... it was full of grace."
Julianne Hough added, "I'm choked up, too, because God is good."
Judge Len Goodman maintained that he admires Mr. T more than any other celebrity in the competition because he's stepped out of his comfort zone.
The praise did not end there, vibrant judge Bruno Tonioli told Mr. T that his faith not only inspired them in studio but also millions around the country.
"You really are a good man, a man with a heart of gold," he added. "Your faith is inspiring all of us, not just in this studio — millions of people are watching this and are now moved by what you did."
Unfortunately, that night the Chicago native and his partner were voted off the show despite scoring their highest marks of the competition. But before exiting, they surely left an impact.