Mylon LeFevre, Grammy-winning Christian rock musician, dies at 78 of cancer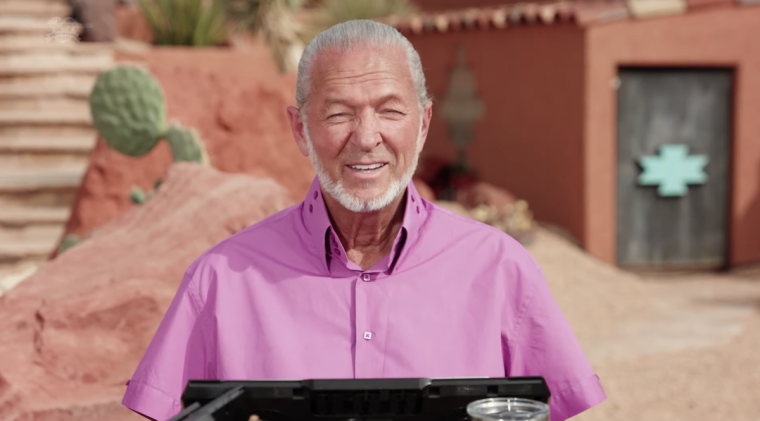 Grammy-award-winning Christian Rock musician Mylon LeFevre, a member of the band Mylon and Broken Heart, died at 78 from cancer complications last Friday.  
LeFevre, who previously recorded over 20 albums and was awarded Grammy and Dove Awards for his 1987 album "Crack the Sky," was inducted into the Gospel Music Hall of Fame in 2005.
On Saturday, his wife, Christi, took to social media to express her love for her late husband.
"My precious, strong, courageous husband laid hold of eternal life last night. When we discussed heaven through the years, Mylon was most excited about receiving the soul winner's crown," Christi LeFevre wrote in a Facebook post claiming that the contemporary Christian rock band Mylon and Broken Heart led over 250,000 youth to Jesus.
"[Mylon] cherished all the years of music ministry and the countless lives touched through his songs; but his greatest joy was teaching the Word of God, especially through our broadcast, 'On the Road to Freedom,'" she continued.
LeFevre got his first "big break" in the music industry after Elvis Presley recorded a song he wrote at age 17 titled "Without Him." 
Following the record, LeFevre had the opportunity to tour and record with many big names in the music industry in the late 1970s, such as George Harrison, Greg Allman, Little Richard and Eric Clapton. 
During the height of his music journey, LeFevre nearly died from a drug overdose. However, his life radically changed at a concert in 1980, where he gave his life to Christ.
In recent years, the LeFevres traveled the globe proclaiming the Word of God.
The two also had a YouTube channel titled "On The Road To Freedom," which garnered over 8,000 subscribers and served as a platform to spread the Gospel.
LeFevre's final album, "Bow Down," was released in 2003 and produced by LeFevre's son-in-law and former Newsboys lead singer Peter Furler.
Christi LeFevre detailed that while her husband endured an "intense non-stop battle" with cancer in the last few years, she never heard him falter in his confession of faith. 
"In every broadcast and church service, many witnesses can attest to his bold declaration: JESUS IS MY HEALER," Christi LeFevre wrote. 
"Until his very last breath he fought the good fight of faith. He finished his race. He kept the faith. II Timothy 4:7," she added. 
"My honey, we discussed many times how we both daily answered the call for the holy affirmation that I know you are now hearing. 'Well done good and faithful servant. Enter into the joy of your Lord.'" 
Christi LeFevre said that her late husband is now enjoying what he once called: "the first day of forever."
"It has been my highest honor and privilege for God to trust me with you these past 25 years. All my love, Christi," she concluded.
Well-known Christian musicians who knew him expressed condolences and reflected on the artist's legacy. 
"I just found out that my good friend, mentor, and Christian music veteran, Mylon LeFevre @Mylon_LeFevre passed away last night. I don't know what to say. Mylon was a hero; one of a kind. I'm gonna miss him. Much love to his wife Christi," John Cooper, the lead vocalist, bassist and founder of the Christian rock band Skillet, posted on X, formerly known as Twitter.   
American contemporary Christian music artist Bryan Duncan, known for his solo work and as the lead singer of Sweet Comfort Band and Bryan Duncan & the Nehosoul Band, took to X to express similar sentiments. 
"I just heard that longtime CCM artist and friend of mine Mylon Lefevre has passed away of cancer, for now, goodbye, my friend. #MylonLefevre," he wrote. 
Duncan shared another message on his Facebook page of hope in Jesus' promise of eternal life.
"Are we ready to say goodbye? Seems like a lot of my contemporaries are leaving for heaven. This is where our faith in the promise of eternal life surpasses everything else," Duncan wrote.  
"Yeah, I played many festival dates with Mylon & Broken Heart, and a few shared bills as well. He was soft spoken and hard rockin. And he has fought the good fight. Well done, my friend and for now... good bye." 
Steven Curtis Chapman, an American contemporary Christian music singer and songwriter, recorded a Facebook video in which he played a song by Lefevre that resonated with him to honor the memory of the late musician. 
"One of the first songs I remember singing with my family in church was a song called 'Without Him,' written by Mylon LeFevre when he was just 17 years old … and recorded by hundreds of artists including Elvis Presley," Chapman wrote in a post shared with the video. 
"I remember watching the tears in my dad's eyes as we sang this song that meant so much to him because it was his and our whole family's story, and it's a message that has been woven into all my songs over the years. … Without Him I could do nothing. Thank you for this song Mylon. … And so thankful to know that you're getting to sing it to Jesus now."
Nicole Alcindor is a reporter for The Christian Post.