'Nag Toolkit' Teaches Moms to Use 'Sexting' Apps to Get Kids to Sign Up For 'Obamacare'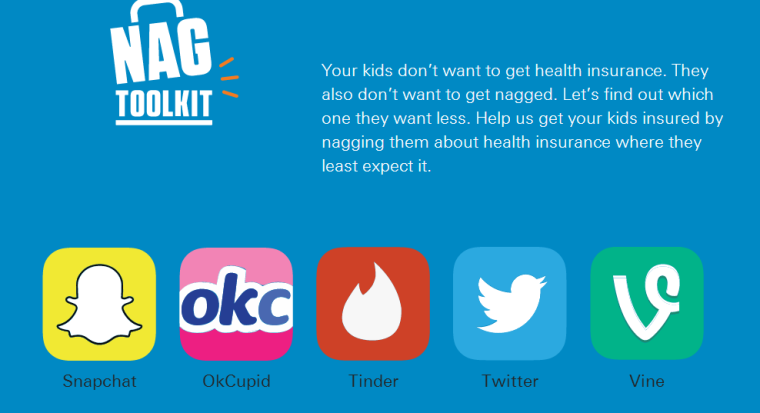 HealthSourceRI, Rhode Island's health insurance exchange for the Affordable Care Act, or "Obamacare," has launched a campaign encouraging mothers to sign up for sexting sites such as Snapchat, Tinder, and OkCupid to "nag" their children to sign up for health insurance. Critics have attacked this move as "desperate" and "inappropriate."
"We're playing with the idea that kids don't want to sign up for health insurance, they don't really want to talk about it, and they don't want to be nagged by their moms," Dara Chadwick, communications director for HealthSourceRI, told Buzzfeed. "So the idea was, we would set out to find what they wanted less."
"If you're young, from Rhode Island, and don't have health insurance, look out: That potential hot date on Tinder might just be your mom," Buzzfeed's Evan McMorris-Santoro warned in a report on the "Nag Toolkit." The article describes a two-pronged approach: Facebook ads warning young people that if they do not buy health insurance their parents will nag them on dating sites, and ads directing moms to the "Nag Toolkit," which gives them the tools to stalk their children.
Penny Nance, president and CEO of Concerned Women For America, said the outreach program will fail to resonate even with mothers.
"I don't think this is going to work because moms can add to. They get at bottom that this is not a good deal for their kids," Nance told The Christian Post in a Wednesday interview.
Nance called the whole campaign "desperate" and "inappropriate." She summarized the strategy in derisive terms: "Now that Obamacare is being rejected by Millennials, they are trying to go tattletale on them to their mothers."
Obamacare is a bad deal for young people "because it makes them pay for services they don't want and often don't need, it's a redistribution of resources from one generation to another," Nance argued. She suggested that young people have considered the plans and chosen against them rationally, deciding that not enrolling in the system is the better option.
Mothers "see the reality of their kids working at Starbucks" and do not wish to force them to pay for more than a catastrophic plan, which would be "a bad financial decision" in one's early twenties.
Patrice Lee, manager of Outreach at the youth-focused nonprofit Generation Opportunity, agreed with Nance. Lee attacked the "Nag Toolkit" as "another failed enrollment effort by the administration to get young people to sign up for Obamacare." She called it "incoherent, insulting, and frankly desperate." Furthermore, she also predicted that the effort will fail to encourage millennials to enroll in the program.
Lee attacked the administration's multi-pronged effort to sell the Affordable Care Act as fundamentally misguided. "It's built on this premise that young people need to be talked down to, it insults our intelligence," she declared.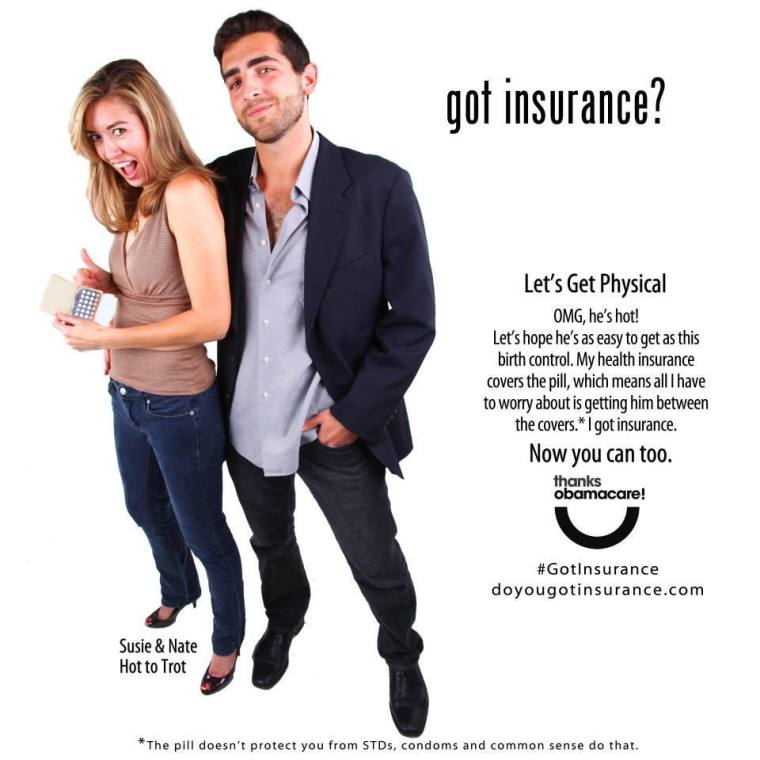 Lee mentioned the controversial Colorado ads featuring kegs of beer and birth control that promoted the ACA as "Brosurance" as another example of the insulting marketing campaign. This week, the administration launched a "March Madness" blitz, featuring online videos of athletes and coaches, including the Miami Heat's LeBron James, promoting health insurance.
In addition to the "March Madness" campaign, the Obama administration launched a campaign encouraging Americans to vote for "The 16 Sweetest Reasons to Get Covered." Each "reason" also showed a GIF of a dog or a cat. One even featured first lady Michele Obama.
In response, Generation Opportunity launched its own "Sweet 16" list of reasons to "opt out" of Obamacare. Each of these, by contrast, features a pop culture reference GIF explaining, for example, "1. We aren't 'knuckleheads,'" "3. Increasing the price of our health insurance to pay for older, sicker people is not fair," and "5. We need jobs, not policies like Obamacare that kill jobs."
While the White House's reasons "are all about cats and dogs," Generation Opportunity's reasons provide "examples of why government intervention doesn't work in healthcare and also why 'Obamacare' is not a good deal for young people," Lee argued.
"The administration seems to think that our generation is irresponsible, only interested in hookups, and needs to be chaperoned by our parents," the Generation Opportunity spokeswoman declared. She noted that the White House reported 5 million sign-ups as of the end of last week, where the original goal by the March 31 deadline was 7 million, then revised down to 6 million. Twenty-five percent of those enrollments of young Americans between 18 and 24, far behind the 40 percent target to sustain the program, she added.