Native American Group Prepares Lawsuit Over 'Offensive' Cleveland Indians Name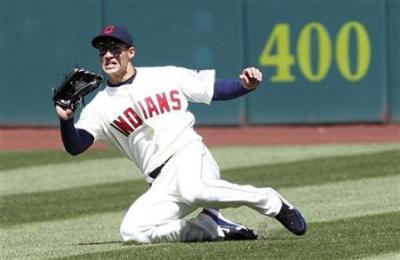 A Native American group is preparing to file a federal lawsuit against the Cleveland Indians baseball team, requesting they change their "offensive" name and mascot, describing them as disparaging toward Native American populations. The lawsuit comes after five Native Americans won a trademark lawsuit against the Washington Redskins regarding its name.
Robert Roche, leader of the group People Not Mascots, told NBC News that his group will be filing a federal lawsuit challenging the Cleveland Indians' name and mascot, Chief Wahoo. The lawsuit is expected to be filed by late July, and contends that the mascot that includes a red face, large smile, and feather, be changed out of sensitivity for the Native American culture.
"It's been offensive since day one," Roche, a member of the Chiricahua Apache tribe, recently told NBC News. "We are not mascots. My children are not mascots. We are people."
Chief Wahoo's presence has its fair share of supporters and opponents. Earlier this year, a social media campaign with the hashtag #DeChief encouraged opponents of Chief Wahoo to strip his image from their Cleveland Indians gear. A pro-Chief Wahoo campaign, known as #keepthechief, followed and encouraged supporters to continue using and promoting the team's 60-year-old namesake.
As NBC News points out, groups such as People Not Mascots have been encouraged to pursue their own lawsuits after a recent court ruling by the federal U.S. Patent and Trademark Office stripped the Washington Redskins NFL team of their trademark registrations. The federal agency determined in a 2 to 1 ruling last week that the plaintiffs who brought on the lawsuit had provided enough evidence to show the NFL team's name was "disparaging" to Native American people.
The Washington Redskins are expected to appeal the ruling, which does not force the team to change their name. Rather, it makes it more difficult for the team to protect its moniker from copyright infringement by other groups seeking to use the name for promotional purposes.
The Redskins previously won an appeal to a similar ruling in 2009. "We are confident we will prevail once again, and that the Trademark Trial and Appeal Board's divided ruling will be overturned on appeal. This case is no different than an earlier case, where the Board cancelled the Redskins' trademark registrations, and where a federal district court disagreed and reversed the Board," Bob Raskopf, the trademark attorney for the NFL team, said in a statement.
Along with the Cleveland Indians, the Redskins have been receiving mounting pressure to change their name from Native American groups, politicians, and even the United Church of Christ. The denomination's Central-Atlantic conference voted earlier this month to boycott team games and merchandise over the Native American-themed name.
The Washington Redskins name has also been denounced by Senate Majority Leader Harry Reid, a democrat who recently told team president Bruce Allen in a letter that he would not be attending a home game until the team changes its name.
50 of the 55 democrats in the U.S. Senate also recently sent a letter to NFL commissioner Roger Goodell, imploring him to change the Redskins name. "The N.F.L. can no longer ignore this and perpetuate the use of this name as anything but what it is: a racial slur," the letter read, in part.