NBA Rumors: Hassan Whiteside Drawing Trade Interest From Los Angeles Lakers, Kosta Koufus from Houston Rockets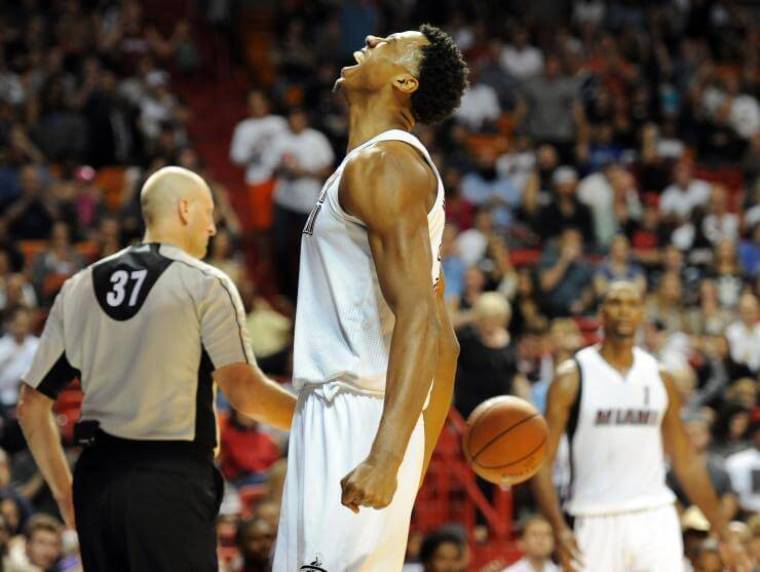 As the 2016-17 NBA season plays out its middle stages, trade rumors continue to flourish. The following rumors involve teams that are looking for more depth in their front court.
1. Hassan Whiteside to the Los Angeles Lakers
The Los Angeles Lakers currently have a standing of 12 wins and 24 losses, currently putting them at 12th place in the Western Conference. While the Lakers is at a far better position than they were last season, they are still involved in various trade rumors not directly aimed at having a championship year, but thinking more about preparing for the future.
The Los Angeles Lakers roster has a lot of talent and potential, and therefore a lot of trading pieces which would benefit other NBA teams. However, the front office needs to keep things at a balance. Some of these players are part of the grander scheme of things; important in the rebuilding phase of the team.
According to latest rumors, one of the players the Lakers are interested in acquiring is Hassan Whiteside of the Miami Heat.
Any team can benefit from having Whiteside in their roster. This season, he is averaging 17.3 points (a career high), 14.3 rebounds (league leader this season), and 2.2 blocks per game.
The Heat are in a similar position with the Lakers this season, with a standing of 10 wins and 24 losses, putting them at 13th place in the Easter Conference. Both teams have enjoyed championship success in the past with players such as Kobe Bryant, Shaquille O'Neal, LeBron James, and Dwyane Wade, and both are looking to add new players who could help bring back better days.
One possible trade scenario is the Lakers giving up Timofey Mozgov, D'Angelo Russell, and a future draft pick for Hassan Whiteside.
2. Kosta Koufos to Houston Rockets
The Houston Rockets have been looking for a big man to replace Clint Capela, who will be out temporarily due to a left fibula fracture which he acquired in a November 17 game against the Minnesota Timberwolves.
According to a tweet by Marc Stein of ESPN, "Trade rumble: Houston has made no secret of its desire to add a big man and the Kings' Kosta Koufus, I'm told, has emerged as a prime target."
Kosta Koufos is averaging 5.9 points and 5.8 rebounds this season. While he may not produce much on offense, he is a solid defender in the paint and can grab lots of rebounds.
To acquire a new big man, the Rockets are willing to give up Corey Brewer, although it seems there isn't much interest in getting the small forward.