NC Baptist Convention President Calls for Civil Debate on Gay Marriage Ban (VIDEO)
As vote on same-sex marriage ban in North Carolina approaches, those in support brace for backlash
The newly-minted president of the Baptist State Convention of North Carolina, the Rev. Mark Harris, is one of the local church leaders supporting the "Marriage Amendment" that is to explicitly ban gay marriage in the state constitution if passed on May 8. Although expected to be hit with a lot of criticism, the minister is hoping for a civil debate.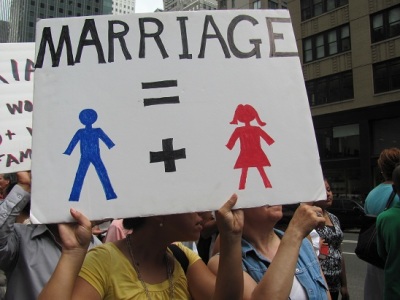 North Carolina is the last southeastern state without such a ban. But that may soon change, as a vote to pass a new amendment that would affirm marriage as between a man and a woman in the state constitution is due to take place during the May primaries. The state senate voted in favor of letting North Carolinians decide on the measure in September.
A North Carolina statute currently defines marriage as "A valid and sufficient marriage is created by the consent of a male and female person who may lawfully marry (…)," therefore already making same-sex marriage illegal. But an additional affirmation of the definition of marriage is necessary, Harris told The Christian Post Wednesday.
"The truth is, without a constitutional amendment that protects marriage, marriage is vulnerable to legal attacks and also liberal activist judges," he said.
"Only a constitutional amendment protecting marriage keeps the issue in the hands of the people and out of the hands of more liberal activist judges," the minister added.
Harris, senior minister at Charlotte's First Baptist Church, was elected to a yearlong term as president of the Baptist State Convention of North Carolina in November, and reportedly represents 4,300 N.C. Baptist churches and their 1.3 million members.
The minister realizes that his campaign to support the amendment will undergo tough criticism from the gay community and other entities that do not support traditional marriage, as he expressed in his recent interview with The Charlotte Observer.
Earlier this week, Harris told the newspaper that he received a threatening voice mail message, right after receiving his post, in which the caller warned him to stop "spewing hatred."
Nevertheless, Harris expressed hope for a "civil conversation and civil discussion."
"It's no secret that there is a lot of emotion on both sides of this issue and my hope is that we can keep that emotion in check and simply have a conversation based on perspective and fact, and be able to move forward in that way. Just encouraging the folks to get out and vote," he told CP.
North Carolina evangelicals  formed a coalition earlier this month – Vote For Marriage NC – to campaign for the amendment's passage.
"We very much look forward to a dialogue with North Carolina voters about the importance of preserving marriage as the union of one man and one woman," Executive Director of the NC Values Coalition Tami Fitzgerald told CP at the time.
"The marriage amendment ensures that voters and not activist judges will decide the definition of marriage in our state," he added. "Marriage as the union of one man and one woman has served North Carolina well since before we were a state, and it's time we respected the institution of marriage enough to protect it in our state constitution."
North Carolina Baptists want to encourage Christians to make marriage and family a serious commitment – to be "godly moms and godly dads," Harris told CP Wednesday.
"It is important for children to have a mother and a father. We feel it is important for them to benefit as a society from that," so the church wants to do everything it can to promote that idea, he added.
"One of the things that are important in this issue is that this really is an opportunity – when we think of the marriage amendment – to celebrate the benefits of marriage to the society. It's an opportunity to celebrate the timelessness and the special union that marriage is between one man and one woman," Harris told CP, adding that he hopes for that to be the focus of the conversation in the months preceding May.
The amendment could also call into question domestic partnership benefits offered by public institutions and the application of domestic violence laws, according to The New York Times.
The Christian Post Daily Report 12.28.11