North Carolina church to serve 1,000 families with free Thanksgiving meals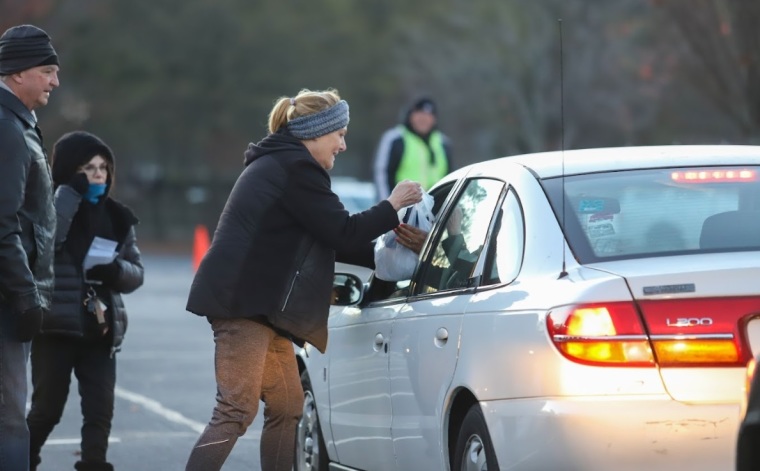 A church in North Carolina is ready to serve 1,000 families with free Thanksgiving meals as part of a drive-through charity giveaway inspired by Jesus' feeding of the 5,000.
Lawndale Baptist Church of Greensboro will hold its annual "Feeding the 5,000" event next Tuesday. One thousand families will each pick up supplies for a Thanksgiving dinner that should serve five people. The giveaway will begin at 6:30 a.m., and the church is instructing people not to arrive any earlier than 6 a.m. 
Jimmy Jackson, the pastor of administrative and missions, told The Christian Post that the annual event was first devised by the congregation's former Pastor Joe Giaritelli and is inspired by Scripture.
"Jesus, during His early ministry, fed over 5000 at a teaching he did as told in Matthew 14:13-21," Jackson said. "As Christians, we believe that we are to meet the needs of our community and be a good neighbor, just as Jesus did and taught."
"One of the ways we do this is to provide this event each year. We also provide a Shepherd's Shelf food pantry each week as well."
Lawndale Baptist has held the Thanksgiving meal giveaway for the past 15 years. It was originally an outdoor event with worship before handing out boxes of food.
In response to the COVID-19 pandemic and the subsequent restrictions on gatherings aimed at curbing the spread of the disease, Feeding the 5,000 was changed to a drive-through event and continues to operate as such three years after the pandemic first broke out. 
The bags handed out to families will include a frozen turkey, a $25 gift card to Food Lion, evangelism tracts for children and adults and information on the church's events schedule.
"The biggest thing we want our community to take away from this event is [that] Jesus loves them more than they could ever fathom," Jackson told CP.
"We do this event each year in the name of Christ and for His glory. We also want our community to know that we, Lawndale Baptist, are there for them and love them as well. If our community sees us modeling Christ, then Christ gets all the glory."