Nearly 900 Churches Commit to Host Greg Laurie's Harvest America Webcast
Pre-event webinar to focus on nationwide prayer
Nearly 900 churches and venues have signed up to host a live simulcast of Harvest America, a first-of-its-kind evangelism event organized by Greg Laurie and his ministry to be held in late summer.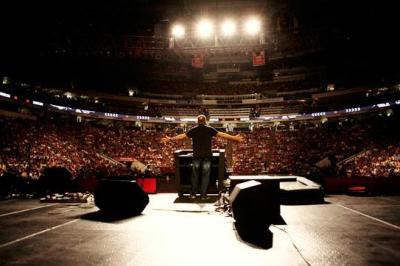 As part of the promotions leading up to the event, Laurie and his wife are scheduled Wednesday to appear during a live webinar with the theme, "A Call to Nationwide Prayer." The online broadcast at the Harvest America website is the fourth webinar in preparation for the Aug. 26 outreach.
"This Wednesday, my wife Cathe and I will be talking about Harvest America prayer initiatives in the monthly webinar. It will be live at 12:00 noon (Pacific time) Wednesday, June 13. We'll reveal some exciting new prayer components and we'll pray together that God would use Harvest America to reach people everywhere with the Gospel," said Laurie in a statement that Harvest America organizers sent to The Christian Post.
Laurie added, "Click here to register for this free webinar, and I invite you to join us."
Harvest America representative Scot Camden said the discussion topics during the webinar will be the "60 days of Around the Clock Prayer" starting July 1, prayer resources for Harvest America, and host locations. Also, viewers will be able to learn about evangelism, follow-up, and discipleship resources for the event.
The concept of Harvest America, which will be held at Angels Stadium in Anaheim, includes the hope that churches and Christian leaders that host the event in their own cities can establish a direct relationship with those attending and those making decisions to commit to Jesus Christ.
"Now, with HD-quality video available through Internet streaming and satellite, people could fill churches, theaters, coffee houses, and living rooms, linking together as One Church in thousands of locations," Harvest organizers said.
As of Monday morning, there were 874 locations signed up to host Harvest America, Camden told CP. Included in the upcoming webcasts prior to the event is a "START!" rally streamed live from Harvest Christian Fellowship in Riverside, Calif., on Aug. 5 at 4 pm PDT.
Cathe Laurie also made an announcement about the upcoming webinar on her recent blog post at the Harvest America website. In her post "A Gutsy Prayer Life," she emphasized the importance of praying while in difficult circumstances. She wrote, "In Psalm 90, we read a prayer of Moses. It is a psalm that reminds us that this world is hard, it's not our home, and much of it is spent in the barren wilderness of trials and hardship."
She continued, "But I love the way Moses prays with boldness, when he says to God, 'Satisfy us with Your unfailing love.' That word, satisfy, means to saturate. Fill us up, he is saying. Bring us to overflowing with Your unfailing love. And there is so much rejoicing in these verses. He is not slouching his way towards eternity. He is victorious and he is praying in a gutsy way for joy and gladness."
In a video also posted on the Harvest America blog, James MacDonald, who is the senior pastor of Harvest Bible Chapel in the Chicago-area, encourages other churches to participate in the event.
MacDonald said Laurie has an "incredible evangelistic gift."
"I don't exactly understand why God invests so much in certain people, but we always comment around Harvest that it doesn't matter how many times we draw the net, how many people we see come to Christ, when Greg comes to Harvest there's this outpouring of conversions to Jesus Christ through his proclamation of the Gospel," MacDonald says during the video. "I guess you could just call it a gift and thank God for it."
Laurie, with the encouragement of Calvary Chapel movement founding pastor Chuck Smith, founded the Harvest Crusades ministry 22 years ago in Southern California's Orange County. Harvest events have since taken place every year and have included stops in other parts of the United States, Canada, Australia, and New Zealand.
To register for the free webinar planned for Wednesday, click here.
How To Know God? (Greg Laurie)