New Mexico Man Sees Image of Jesus Holding Lamb in Fuji Apple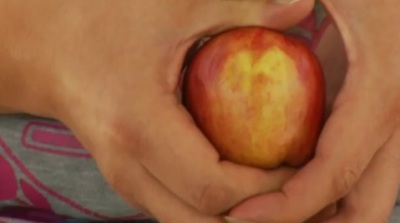 A New Mexico man is claiming he has seen the image of Jesus Christ in a Fuji apple.
David Duran of Albuquerque, New Mexico was reportedly preparing his great-great-grandmother's recipe for apple butter when he noticed a unique image on one of the Fuji apples he was about to peel. Looking closer, Duran saw a classic image of Jesus holding a lamb in the red and yellow markings on the piece of fruit.
The Albuquerque resident then took the apple to the local Sacred Heart church, where a priest blessed the apple and anointed it. Since Duran made his discovery, he tells KOB 4 that neighbors and local residents have been coming by to view the unique piece of fruit.
Duran described to the local media outlet how he sees Jesus' hair, face, and robe, as well as a lamb sitting in his arms.
"Maybe it's a sign from the Lord that maybe we need to change our ways and maybe look at things to be more positive in this world," Duran told KOB 4. "Like helping our fellow neighbors and being good to people."
Duran's recent discovery is not the first of its kind. There have been multiple reports throughout the U.S. and abroad of Jesus' face and the image of the Virgin Mary being spotted in pieces of fruit, tree trunks, potato chips, bird droppings and even pieces of chocolate, among other sightings.
A recent study conducted by a team of researchers at the University of Toronto suggests it is human nature to look for facial images in inanimate objects, including spotting Jesus' face in a slice of toast. After performing a series of visual tests on patients, researchers determined that the human brain is "uniquely wired" to detect faces in objects.
Kang Lee, a developmental neuroscientist at the University of Toronto, said that while many assume humans see an inanimate object and then a face, the process of the brain actually happens in reverse; humans have a familiar face in mind and seek to find that face in everyday objects. This is why devout religious people will be more likely to see an image of Jesus in an inanimate object.
"It's simply a reflection of the tremendous power that our brains have and how it essentially imposes itself on the outside world, rather than the other way around," Lee said of the facial recognition phenomenon, known as face pareidolia.