New Miss America Kira Kazantsev Slammed for Planned Parenthood Internship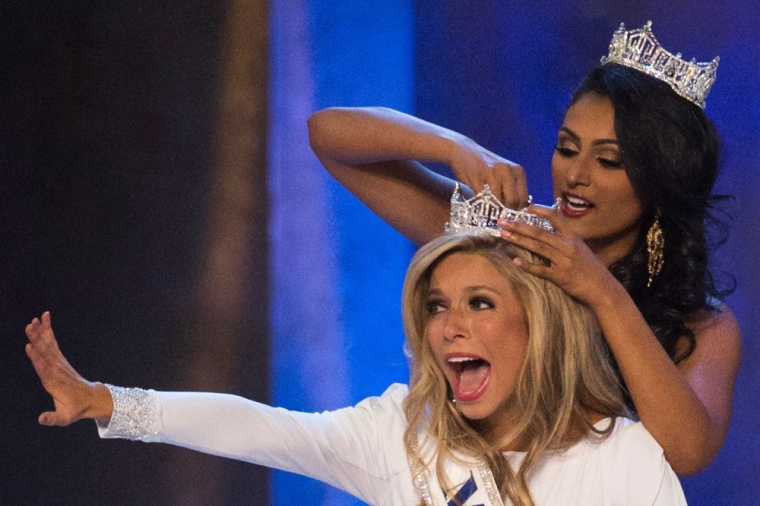 Just two days after winning the 2014 Miss America pageant, Miss New York Kira Kazantsev is facing criticism from conservatives for working as an intern for Planned Parenthood.
Kazantsev's LinkedIn profile stated that she was an intern at Planned Parenthood for 3 months in Hempstead, New York. It has since been taken down but not before conservatives on social media expressed their outrage that she won the pageant while being a part of the organization.
Critics on Twitter shared the story with headlines such as "Miss America May Have Killed Babies To Get To The Top," asserting that she should have been disqualified from the competition for working for the largest abortion provider in the naton.
Pro-life news site Lifenews.com wrote the breaking story on Kazantsev.
"So the woman representing the nation as the new Miss America interned for the very organization that has killed millions of Americans in abortions. Kazantsev worked for the abortion giant just outside New York City proper for three months, from February 2013-April 2013. One month later, one of the Planned Parenthood abortion clinics in New York City botched an abortion. The incident occurred at the Margaret Sanger Center Planned Parenthood in New York City, New York."
In a statement to Fox News , the president of pro-life organization National Right to Life, Carol Tobias, said she was not happy that the new Miss America served at Planned Parenthood. "It would be a tragedy if someone who is looked up to by many young women actually buys into the Planned Parenthood abortion agenda," Tobias told Fox 411. "Unfortunately, most people in the country don't know that Planned Parenthood is the largest abortion provider. This will cast a shadow on her entire reign."
Planned Parenthood came to the swift defense of Kazantsev releasing a statement from Vice President of Communications Eric Fererro. "Miss America Kira Kazantsev interned at her local Planned Parenthood affiliate," Fererro wrote. "She supported staff members who provide sexual education in the community and in school."
According to Fererro, Kazantsev is not the first pageant participant who interned for the company. "Several past Miss Americas have supported Planned Parenthood's mission, and we're thrilled and proud that one of our former interns is the new Miss America."
Kazantsev has not spoken to the media since the news broke, but Chairman and CEO of the Miss America Organization, Sam Haskell, issued a statement in support of his new Miss America. "Each Miss America takes a different path to the crown and Kira's path is no different," Haskell said. "Kira's college internship with Planned Parenthood afforded her the opportunity to advocate against child abuse while writing her thesis. Kira's life experiences, including being a first-generation American, a triple major college graduate, fluent in three languages, as well as her vocational opportunities- have shaped her into the tremendous young woman she is today."
Kazantsev is an outspoken advocate for raising awareness for domestic violence. In an interview with National Public Radio, she revealed she was working with Safe Horizon, a domestic abuse awareness advocacy group and said that she was in an abusive relationship during college.