Newsboys Singer Excited by Recent Success of Christian Film; Will Work on 2015 Film 'Do You Believe?'
Newsboys Singer Excited by Recent Success of Christian Film; Will Work on 2015 Film 'Do You Believe?'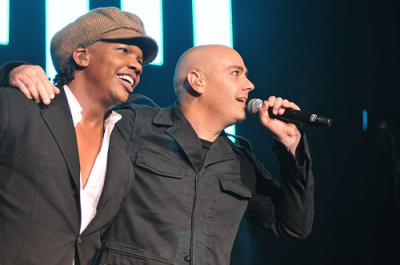 GRAND RAPIDS, Mich. – Michael Tait of Christian contemporary group the Newsboys expressed excitement for the growing success of faith-based movies at the box office and revealed plans to be part of a new film set for Spring 2015.
Speaking at a promotional event for faith-base film studio Pure Flix Entertainment, Tait praised the recent strides Christian films have made in the box office.
"Faith-based movies this year are taking a turn for the good and I'm just stoked about this," said Tait.
This year saw five films based on Christian literature, testimonies and the Bible takeover U.S. theaters: "Noah," "Heaven is For Real," "Son of God," "God's Not Dead," and "Left Behind."
"Noah," the project of the Paramount Pictures and director Darren Aronofsky, was the only big box film among the bunch. The March film grossed a meager $101 million in U.S. theaters despite its 125 million-dollar budget and A-List cast which included Russell Crowe and Emma Watson.
However movies "Heaven is For Real," "Son of God," and "God's Not Dead" saw great success, topping charts and pulling in millions.
"God's Not Dead," which featured a self-titled song by the Newsboys, took the world by surprise in March with its early success. Pure Flix CEO and Managing Partner Michael Scott said the 2- million-dollar film starring Kevin Sorbo earned $9 million in its first week in theaters. The movie grossed $60 million by August.
Tait said he loved when Christian films turn heads and praised Pure Flix Entertainment for its "vision."
Tait also announced that the Newsboys will be partnering with the faith-base film studio for its Spring 2015 movie "Do You Believe?"
"Do You Believe?", due out next spring, follows a group of characters – a pastor who re-examining his faith, a veteran suffering from post-traumatic syndrome and a gangbanger who is fighting against belief, to name a few – all struggling with various problems. The characters' stories intersect in a way that reveals the "redemptive power of the cross."
The cast includes Cybill Shepard, Ted McGinley, Lee Majors, and UFC Champion Mavrick Von Haug.
The Newsboys song "We Believe" will be featured at the end of the upcoming film.
Tait joked "In a perfect world I would have the Newsboys to keep making records and a write a record to a movie."
The Christian contemporary band is also dropping a new album November 4 covering hymns such as "I Surrender All" and "Blessed Assurance" sung "Newsboy style" says Tait.