NFL Cheerleaders Breast Cancer Awareness: Cheerleaders Join Players, Refs in Wearing Pink at Sunday Football Games (PHOTO)
NFL cheerleaders are helping to promote Breast Cancer Awareness through October, and to do their part they are donning pink clothing for their uniforms on NFL match days.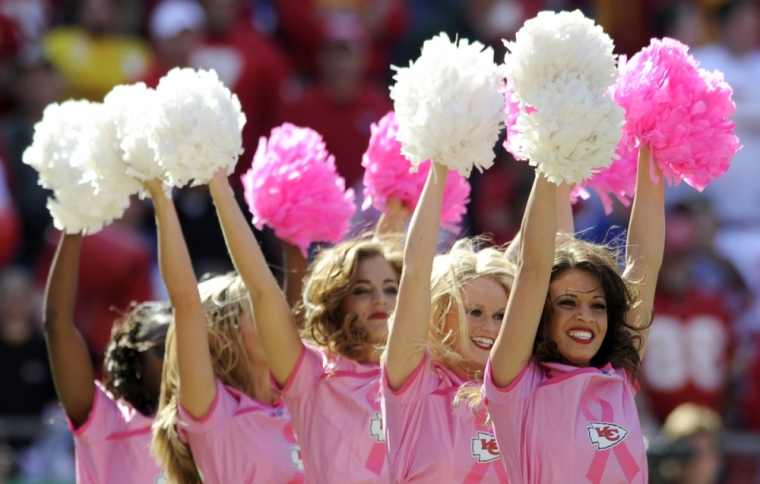 Many fans across the country will have noticed many of the NFL players had worn pink boots, pink socks, pink towels over the weekend in support of Cancer Awareness Month. However, the NFL's efforts do not end with the players; backroom staff, stadium staff, and even referees' flags were also seen in pink on Sunday.
The NFL cheerleaders have also been sure to take part in the efforts and have also been applying pink wherever possible to help raise awareness and funds to fight cancer.
The enthusiasm with which the NFL has taken to help Breast Cancer Awareness Month has been overwhelming, and in some cases has been deemed over-the-top by some. For example, the pink referee flags seen on Sunday caused some confusion as they were the same color as the players' towels, leaving many hesitant at identifying the pink flag as from an official.
The NFL will move to make sure that the traditional yellow flags will be back in action this week, according to reports, to halt any confusion. But even that slight mistake has been publicized and helped to create even more much-needed awareness of the fight against cancer.
NFL spokesman Michael Signora confirmed in an email to USA Today Sports on Monday that the pink penalty flags used over the weekend as part of the league's breast cancer awareness initiative won't be used again.