NFL Hall of Famer Tony Dungy Shares the Bible Verse His Mom Taught Him at Induction Ceremony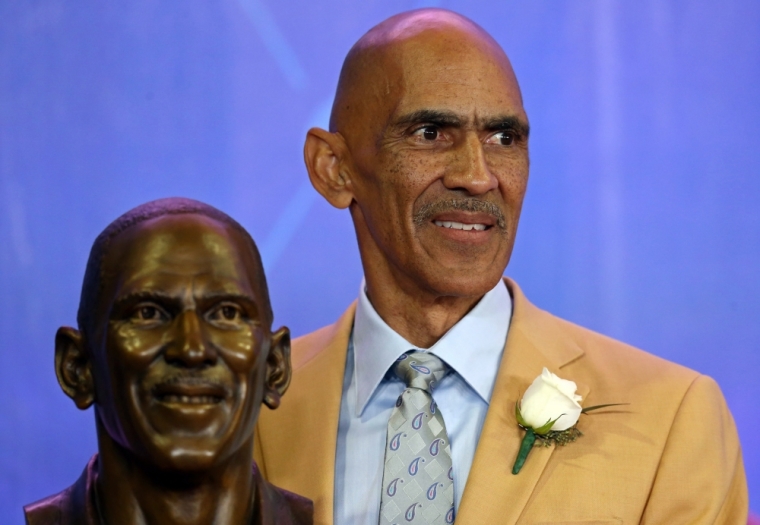 Indianapolis Colts coaching great and devout Christian Tony Dungy recalled the Bible verse his mother taught him so many years ago during his acceptance speech at Saturday's Pro Football Hall of Fame induction ceremony.
Dungy – who won over 139 regular season games as an NFL head coach, led the 2006 Colts to a Super Bowl victory and won a Super Bowl ring as a player with the 1978 Pittsburgh Steelers – received football's greatest honor this past weekend in Canton, Ohio, as he, along with Green Bay Packers quarterback great Brett Favre, highlighted the Pro Football Hall of Fame class of 2016.
Recalling his playing days, which only lasted three seasons, Dungy began his acceptance speech by saying that it's "kind of a miracle" that he is now being enshrined as a hall of famer.
Dungy said when he heard the news in February that he would be enshrined in the same hall as coaching greats like Vince Lombardi, Don Shula and John Madden, his first thoughts were about how God really placed him in that position.
"[W]hen I got the news, my first thoughts were of all the people God placed in my path to help make this possible," Dungy said. "It started in Jackson, Michigan, and I couldn't have had a better upbringing. I'm just sorry that my parents, Wilbur and Cleomae Dungy, aren't alive to see this, because they'd be so proud."
Dungy explained that his dad always "preached" to his children to set high goals and not to complain about negative outcomes, while his mother taught the kids about the importance of honoring God.
"My mom taught us as a Christian, your character, your integrity and how you honor God were so much more important than your job title," Dungy said.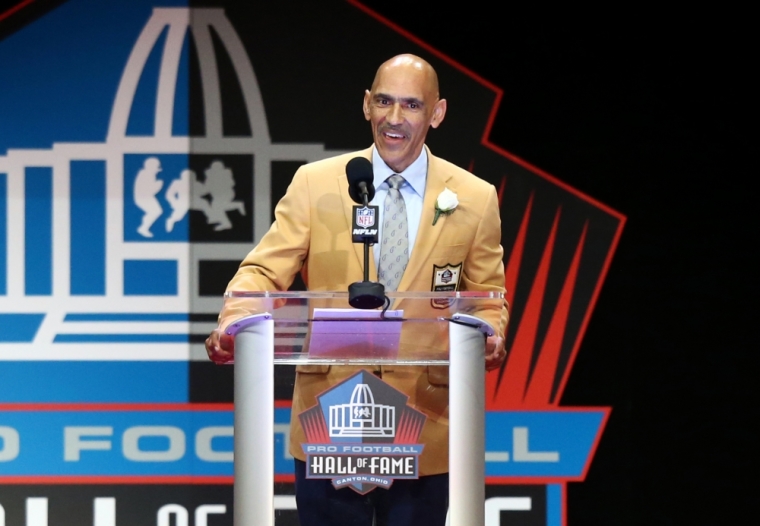 "One of her favorite Bible verses was Matthew 16:26: 'What would it profit a man to gain the whole world and forfeit his soul,'" Dungy recited. "And I know that she's happy to know that her son never forgot that verse."
Dungy's career in the NFL was not all positive. He recalled that when he was a quarterback at the University of Minnesota, he expected to continue being a quarterback at the professional level. However, he didn't get selected in the 1977 NFL rookie player draft.
"I didn't get picked, and I was devastated," Dungy said. "But it just is one example of God's plans being better than our plans."
Dungy later converted from quarterback to safety and was fortunate enough to get signed by the Steelers. It was there where he learned about the game of football from hall of fame coach Chuck Noll.
"Chuck Noll would play a huge, huge role in my life and teach me so much about the game of football," Dungy explained.
Noll also taught Dungy and other players about the importance of keeping the game in perspective.
"But in our first meeting, he said that even though we were now professionals and we're being paid to play the game, we shouldn't make it our life," Dungy continued. "There was more to life than just football, and he wanted to help us find our life's work."
Dungy began his head coaching career as the head coach of the Tampa Bay Buccaneers in 1996. After six seasons as head coach of the Buccaneers, Dungy was let go in 2002 after the Bucs finished with a disappointing 9-7 record in 2001.
"Losing my job in 2002 after a playoff loss was another painful disappointment. But again, God used it to lead me to a blessing," Dungy said. "That's when Jim Irsay called and gave me the opportunity to join him and Bill Polian in Indianapolis."
Although Dungy led the Colts to a victor in Super Bowl XLI, he said the best part of his tenure in Indianapolis was making the Colts, which moved to Indianapolis from Baltimore in 1984, an "integral part of the Indianapolis landscape."
Dungy retired as head coach of the Colts after the 2008 season and now works as a television analyst.
"The Lord has truly led me on a wonderful journey through 31 years in the NFL, through some temporary disappointments to some incredible joys," Dungy concluded. "I cherish every single relationship that I was able to make over those 31 years, and I'll always be grateful to the National Football League for giving me my life's work. Thank you, and God bless."