NFL's Stedman Bailey May Be Home for Christmas After Getting Shot in the Head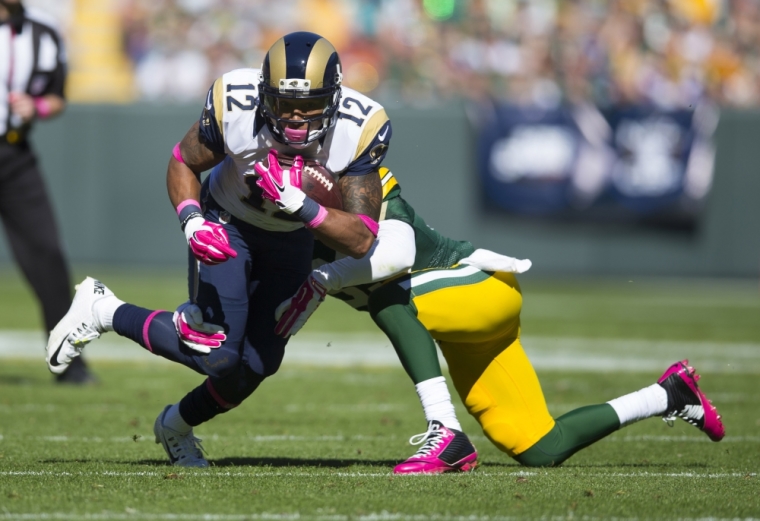 Stedman Bailey went from playing in the NFL to getting suspended and shot twice in the head in a turn of unpredictable events last month. Still, the St. Louis Rams wide receiver is giving God the highest praise for the opportunity to live, jog and possibly be home for Christmas.
While Yahoo! Sports is reporting that Bailey could be home for Christmas, the WR is praising God for his progress.
"Making great progress Twitter family. One day at a time... God is so good," Bailey tweeted. "I'll be back in no time. Just got a nice first jog around the hospital in physical therapy. First time doing more than walking in 3 weeks."
Bailey, 25, was shot in Miami Gardens, Florida, while driving in a car with his cousin, Antwan Reeves, who was driving the vehicle. Reeves' children were also in the car and he reportedly obtained life threatening injuries after shielding his daughter, 10, and son, 5, from bullets.
Now that the NFL player has been transferred out of the ICU to a physical therapy facility, his agent Tony Fleming told TMZ Sports how much progress is being made.
"He is getting his strength back and just taking it one day at a time," Fleming told TMZ Sports. "He is scheduled to be released out of the hospital on the 23rd. ... The Rams are great. They have been talking to the doctors like once every few days staying on top of it."
Bailey is not taking his life for granted these days and is spending his waking moments glorifying God instead of focusing on the fact that he's not on the field.
"There's no better feeling than waking up each day. It reminds you how much God loves you and how his plans for your life is greater than anyone can ever imagine," Bailey wrote on Instagram. "Feeling so blessed this morning. All smiles #Mood #Blessed #livingtestimoney."
After being shot in the head twice, undergoing six hours of surgery and being placed in a medically induced coma, Bailey believes Jesus Christ is working miracles in his life. He wrote a hearfelt message to fans to share that on Dec. 4.
"To my entire Rams family, especially my teammates, fans and peers, I thank you so much for your continued prayers and support. My recovery has been nothing short of a miracle (a work of GOD) and I can only give GOD the praise, glory and honor for which he is doing in my life at this time," Bailey tweeted. "Christmas is a holiday in which Jesus was born as a gift to the world. But in all honesty, He has given me and my family a gift which is far greater than what any man can give, a restoration of my life and health. I will continue to get better day by day until I'm able to get back on the field and I ask for your continued prayers."