NFL's Michael Bennett Says Police Put a Gun to His Head, Threatened to Kill Him Because He Is Black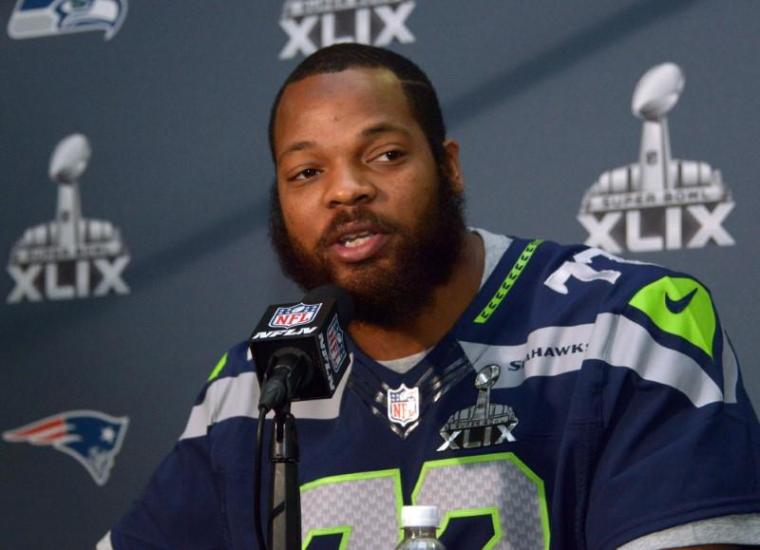 Seattle Seahawks defensive end Michael Bennett claimed this week that Las Vegas police officers put a gun to his head and threatened to shoot him following a boxing event for no other reason than his skin color.
Las Vegas Police Department Undersheriff Kevin McMahill responded to the claim, saying the police are reviewing what happened, but denied that race played a factor in the incident.
Bennett explained in a letter he shared on Twitter on Wednesday that he was leaving the T-Mobile arena in Las Vegas following the Floyd Mayweather Jr. vs. Conor McGregor fight on Aug. 26, when he and several other hundred people began running after hearing sounds resembling gun shots.
As he was running, the NFL star explained, Las Vegas police officers "singled me out and pointed their guns at me for doing nothing more than simply being a black man in the wrong place at the wrong time."
"A police officer ordered me to get on the ground," the Seahawks player said.
"As I laid on the ground, complying with his commands to not move, he placed his gun near my head and warned me that if I moved he would 'blow my [expletive] head off.' Terrified and confused by what was taking place, a second Officer came over and forcefully jammed his knee into my back making it difficult for me to breathe. They then cinched the handcuffs on my wrists so tight that my fingers went numb."
Bennett described his feelings of helplessness and terror during the ordeal, saying that his life "flashed before my eyes."
He alleged that police ignored his pleas and refused to tell him why he was being arrested. Eventually they released him after they realized he was "not a thug, common criminal, ordinary black man, but Michael Bennett, a famous professional football player."
He added that police released him without providing any legitimate justification for the way he was treated.
McMahill explained on Wednesday that officers saw Bennett crouching before a gaming machine, which created suspicion that he may have been a suspect.
"I see no evidence that race played any role in this incident," McMahill insisted. "He quickly ran out of the south doors, jumped over a wall onto Flamingo road east of Las Vegas Boulevard into traffic."
The undersheriff added that police are reviewing footage from 126 cameras and an investigation into the incident has been opened, as ABC 13 KTNV reported.
Colin Kaepernick, a former quarterback for the San Francisco 49ers who has stirred controversy with his decision to kneel during the national anthem before NFL games as a way to protest against police violence in the U.S., said in response to the story:
"This violation that happened against my Brother Michael Bennett is disgusting and unjust. I stand with Michael and I stand with the people."
The incident comes just days after a Georgia police officer decided to resign from his position after a dash cam video from 2016 was made public, showing him telling a woman during a DUI traffic stop that "we only kill black people."
Cobb County Police Chief Mike Register said in a statement before the resignation decision that Lt. Gregg Abbott, a 28-year veteran of the force, should be fired for his words.
"I have known Lieutenant Abbott for years and perceive him as honorable, but he's made a mistake. I don't know what is in his heart, but I know what came out of his mouth. We recommend that he be terminated and we are moving forward on that," Register said.