Nigerian Army Recaptures Mubi in Rare Victory Over Boko Haram; But Islamic Militants Raid Chibok Again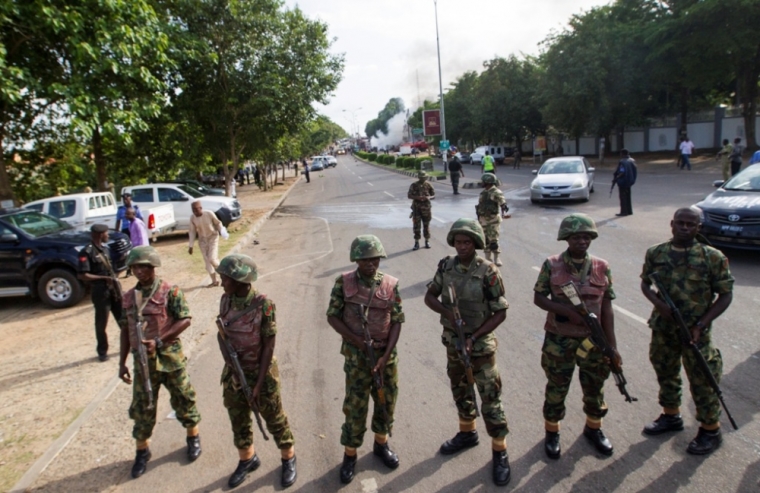 The Nigerian army has claimed a rare victory over terror group Boko Haram with news that it has recaptured the northeastern town of Mubi. The Islamic militants, however, have in turn raided the town of Chibok, where in April they kidnapped over 200 schoolgirls and later sold them off.
BBC News reported that residents in Mubi have seen an unspecified amount of bodies belonging to the terror group in the town. The Nigerian army has said that Mubi, along with several other villages in the area, are being successfully recaptured from Boko Haram's control.
The militants apparently renamed Mubi as the "city of Islam" in October. The jihadis reportedly implemented Sharia Law on the people, and carried out executions and amputations as punishments.
Adamawa state governor Bala Ngilari praised the news that Mubi has been recaptured. He said that it was "time to rejoice" and that the insurgents were "on the run."
SaharaReporters said on Friday that Boko Haram has once again attacked the town of Chibok in Borno state, however. The militants killed an unspecified number of villagers in the latest raid, witnesses said.
The kidnapping of over 200 schoolgirls in April sparked an international outcry against Boko Haram and its five-year war on Nigeria. The terrorist group has often targeted Christians and has carried out hundreds of deadly attacks on schools, churches and government buildings, as well as on entire towns and villages.
Chibok residents revealed that the jihadis arrived at night and began shooting randomly at villagers before heading to the village center to announce that Chibok is once again part of the Islamic caliphate.
Earlier this week, a suicide bomber struck a high school assembly in the northeastern Nigerian city of Potiskum, killing 48 students. Police have said that Boko Haram is suspected of being behind this attack as well, though no one has officially claimed responsibility for it yet.
Reuters reported that a growing number of people in Nigeria are taking up arms and fighting back against Boko Haram, given the central government's failures to stop the wave of constant attacks. An alliance of vigilante groups and traditional hunters called the Civilian Joint Task was credited by Ngilari for having helped liberate Mubi.
In October, the army declared that it had reached a ceasefire with Boko Haram representatives, but the terror group denied the claim and stepped up its attacks.