Nigerian Army Rescues 293 Female Captives From Boko Haram Camp, But Chibok Girls Still Missing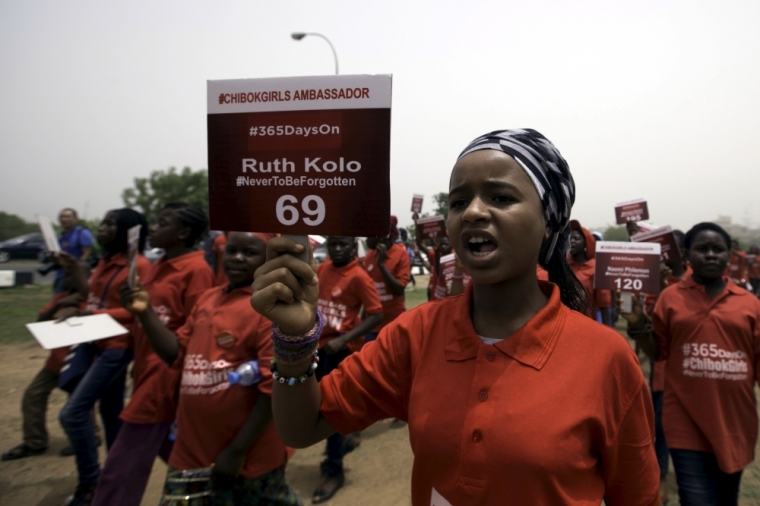 The Nigerian army has reported that it rescued 200 girls and 93 women from the Sambia Forest on Tuesday as it continues driving out terror group Boko Haram from its territory. It added, however, that the girls are not the ones from Chibok kidnapped by the jihadists in April 2014.
Nigerian Army spokesman Sani Usman said, according to CNN, that the army has raided a number of Boko Haram's camps in the forest, which has served as a stronghold for the Islamic militants. The region is not far from Chibok, where close to 200 girls were kidnapped last year, sparking a major international campaign calling for their release.
Usman confirmed, however, that the rescued captives are not the schoolgirls taken by Boko Haram in that particular raid.
Boko Haram recently announced that it is changing its official name to the "Islamic State's West Africa Province," or ISWAP. The terror group has aligned itself with ISIS, the jihadists active in Iraq and Syria, and has been adapting a number of their tactics, including beheading people on video.
The Nigerian terror group has been attacking government institutions, villages, and Christian churches and congregations around the country since 2009, seeking to drive out Christians and establish an African Caliphate in the region.
Nigerian troops and vigilante groups have been pushing hard against the jihadists in the past few months, and a source close to the military revealed that the Tokumbere, Sassa and Tlafa terror camps have been destroyed. The military said that a host of terrorists were killed in the operation, but did not reveal a precise number.
The operations have also been focused on freeing the many girls and women the jihadists have kidnapped throughout the country, forcing them into marriage and attempting to forcefully convert them to Islam.
"We stumbled on the girls and may find more," Usman added.
Hussaini Monguno, a security adviser to the governor of Borno State, told The New York Times that the rescued women were likely taken by Boko Haram from the various villages it has raided.
Monguno said, however, that troops must also focus on capturing Abubakar Shekau, the terror group's leader.
"How could they rescue over 200 women without getting Shekau or the top B. H. commanders?" he asked. "How many were killed? Without clear explanation, people will always believe they just want to cover up."
Though Boko Haram has been driven out of some areas in northeastern Nigeria, its control over an important island in Lake Chad has allowed it to continue attacking neighboring countries. The jihadists killed at least 46 soldiers from Niger and 28 civilians in an attack on Saturday, but also lost 156 of their own fighters, Niger's Defense Ministry has said.
Boko Haram: Nigerian Troops Rescue Up to 300 Females