Nigerian Pastor Chains 9-Y-O Son in Locked Room at Church for Over a Month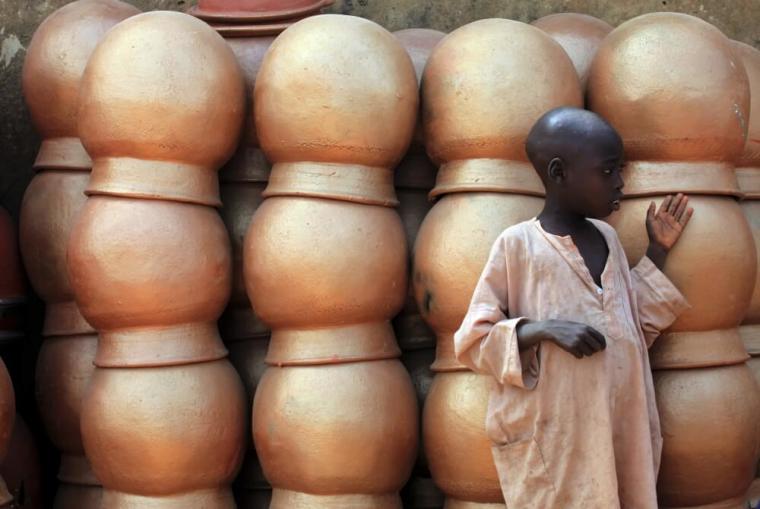 Police in southwest Nigeria on Monday arrested a pastor who chained his 9-year-old son inside the church for more than a month for stealing food, believing the boy was "possessed."
Church members helped police to arrest Pastor Francis Taiwo, 40, the head of Key of Joy Celestial Church in Ajibawo in Otta area, who put an iron chain around the neck of his son, Korede, and attached it to a heavy log of wood, according to All Africa.
The boy was rescued Saturday from a church apartment by police and the Nigeria Security and Civil Defence Corps after they were contacted by a neighbor. Taiwo, who has been the church pastor since 2012, said he felt his son was possessed and was unhappy about his stealing.
Police arrested the victim's stepmother Saturday.
Police said they will hand over the boy to the Ministry of Women Affairs and Social Welfare for rehabilitation.
The victim was tired and pale, unable to speak when he was rescued, police said. "The boy is better now, he can stand," police spokesperson Muyiwa Adejobi said, according to Premium Times.
"On getting to the church there was serious resistance by members led by the pastor's wife, Kehinde, but Civil Defence Corps men insisted, and they were able to force their way into the church premises. The boy was actually under lock and key," NSCDC said in a statement. "Before NSCDC left the hospital, he had been responding to treatment as he has started talking."
A neighbor was quoted as saying, "He has chained the boy since May, because he stole soup, that he always steals soup in the house and even outside the house. We knew it was a wicked thing to do to the little boy,"
The Times noted that the church has a picture of Jesus, with the verse Romans 5:8 written on it: "But God demonstrates his own love for us in this: While we were still sinners, Christ died for us."