No Gov't Shutdown Over Planned Parenthood Funding, Rand Paul, Pro-Life Leaders Say at DC Rally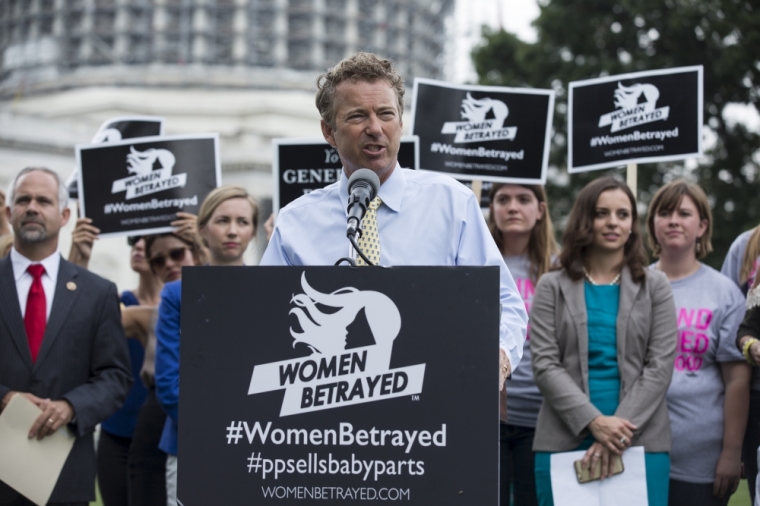 A group of pro-life activists and leaders including presidential candidate and U.S. Sen. Rand Paul denied that Republicans in Congress will shut down the federal government over Planned Parenthood funding.
The Capitol Hill rally, "#WomenBetrayed: The Real Stories Rally & Lobby Day," took place amid speculation that Republicans will force a government shutdown to stop Planned Parenthood from receiving federal funding.
Kristan Hawkins, president of Students for Life of America, told those gathered Thursday afternoon that contrary to some reports pro-lifers did not want a government shutdown.
"We aren't asking for a government shutdown, we're not asking for that. We're asking for the leaders that we elected to have courage to stand up and say no more," said Hawkins.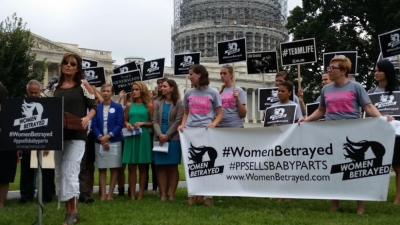 "No more women who will be betrayed, no more children who will be ripped apart and sold for profit. And we can do that."
Paul addressed those present, arguing that there was a way to separate the funding bills before Congress so that Planned Parenthood would have to drum up enough Senate votes to maintain its funding.
"They do not have 60 votes to fund Planned Parenthood," said Paul, who added that he believed recently released undercover videos from the pro-life group Center for Medical Progress were causing a national backlash against the abortion provider.
"There has never been a better time. These horrific videos are making the country rethink this. And at the very least I think the country is coming around to believing that we shouldn't be doing this."
Paul also said that, if anything, through the lack of votes to support Planned Parenthood, it will be the Democrats who force a government shutdown instead.
"I think the country is coming our direction. What we need is leadership in Washington, we should demand nothing less than a separate vote," continued Paul.
"If the Democrats want to shut down government, we should point the finger and say if you want to shut down the government over spending money on harvesting organs from babies, so be it."
For several years, pro-life groups have lobbied the federal government to have them strip Planned Parenthood of hundreds of millions of dollars in taxpayer money.
Over the summer, a series of videos released by the CMP have indicated that Planned Parenthood illegally profits from the sale aborted baby parts and human tissue.
Outrage over the videos led to the Senate voting on a bill that would have eliminated the approximately $500 million in federal funds the abortion provider receives. Although the bill failed to reach a necessary majority, congressional efforts to investigate the allegations against Planned Parenthood continue.
In addition to Paul and Hawkins, the #womenbetrayed rally also featured former Alaska governor Sarah Palin, a few Congressmen, and women who regretted having abortions at Planned Parenthood facilities.