No 'Safe Space' for Black Pro-Life Speaker at Harvard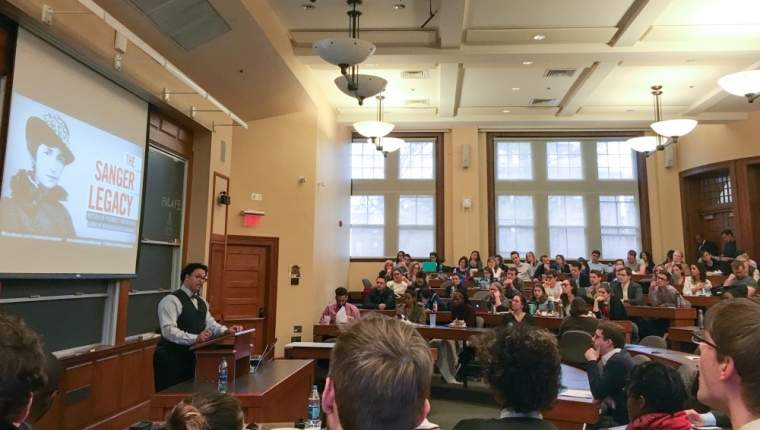 CAMBRIDGE, Mass. — On Tuesday, Ryan Bomberger of The Radiance Foundation addressed a student forum at Harvard University, a 90-minute discussion on abortion in the black community that turned hostile when students began shouting and walking out during the Q & A portion.
In an event co-sponsored by Law Students for Life and Harvard Black Law Students Association, Bomberger spoke opposite Professor Diane Rosenfeld, lecturer and director of the Gender Violence Program at Harvard Law School. As students filed in, the auditorium at the historic Austin Hall neared capacity.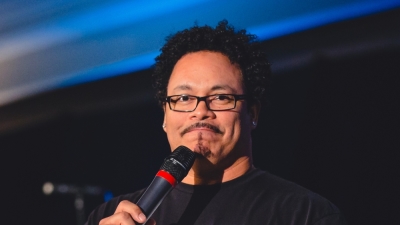 "I speak on college campuses often, and I applaud these two groups partnering for an event that brought together so many different political stripes in the room," said Bomberger following the event. "They were hoping to have 50 to 100 students, and more than 160 showed up which blew them away."
A black man who recently won a lawsuit brought against him and his wife by the NAACP, Bomberger explains that abortion in the black community is a personal issue for him.
"I was once considered black and unwanted. It was very hard, at the time I was born, to place black children for adoption; so few families were available, because they used same-race criteria."
He continues, "Today, abortion has a hugely disproportionate impact on the black community. Part of addressing this is dispelling the myth that black children are less than others. Regardless of pigmentation or any other traits, injustice should be a concern to everyone."
Ironically, the Harvard chapter of Reproductive Justice — a national pro-choice activism group — caused the most uproar over his visit. "Any opportunity to speak the truth is important, but this forum did not allow for an effective presentation primarily because those with Harvard Law Students for Reproductive Justice displayed behavior not befitting the name of Harvard University."
Multiple sources confirm that, once the forum opened for questions following opening remarks, students repeatedly addressed Bomberger using profanity. The New Boston Post noted the event shifted to a "confrontational tone."
Chrystal Benedict, who attended the event after a friend invited her, was disappointed many students refused to hear differing opinions. "I was surprised that what was meant to be a 'safe space for students to hear different perspectives' wasn't that at all. If you disagreed with the pro-choice opinion, you had to prepare for a verbal attack of outrage."
When Bomberger began to respond to a question but was continually interrupted, he asked, "Do you want to hear my answer?" The interrupting student replied, "No! No, I don't want to hear your answer."
Caleb Wolanek, Harvard J.D. candidate and Vice President of Law Students for Life, noted that Bomberger addressed students with respect despite not always being given the same courtesy. "Even when asked difficult questions, Ryan gave thoughtful, well-researched responses."
"Ryan also tried to make clear that this is a multi-faceted issue. Adoption, health care, poverty, education and many other factors must be considered when discussing abortion in black communities," said Wolanek.
The New Boston Post reported a hostile exchange during Q & A between Bomberger and Professor Rosenfeld:
"The two disagreed again about whether the unborn are human beings. Rosenfeld said it's 'just wrong to consider it being a child when it is just a mingling of DNA.'
"Bomberger challenged her, asking whether referring to an unborn child as a human being is 'wrong scientifically or wrong emotionally — because it's certainly not wrong scientifically.'
'You have to understand what the nature of that something is,' Bomberger added. 'Is it a box of crayons or is it a human being?' Bomberger's response prompted one student to shout, 'We're asking the questions here!'"
Later, a visibly angry student representing Harvard Law Students for Reproductive Justice confronted the guest speaker.
"The language you use is so offensive — for instance, we are not pro-abortion," she said.
"So you're not for abortion?" Bomberger asked.
The student retorted: "That's not what pro-abortion means; it implies we want everyone to have an abortion, when in fact we are pro-choice."
Bomberger replied, "Language matters. It defines situations and brings clarity. Pro-choice doesn't bring any clarity to what you're talking about, while pro-abortion does because you are advocating for the legal right to abortion.
"It's about as ridiculous as saying, those who were pro-slavery were pro-jobs," Bomberger continued, as his detractors responded with outrage.
He raised his voice to be heard above the uproar: "I'm applying your same logic! Pro-jobs is nebulous and it doesn't mean anything. How is it any different?"
The student walked out of the forum with two other pro-choice activists.
Bomberger commented later on the incident, "They couldn't say anything. These Harvard Law School students couldn't respond at all."
Near the event's conclusion, Chrystal Benedict tried to ask a question challenging the pro-choice side before students shouted her down. "Professor Rosenfeld made a comment about a women's right to choose and my question was in response to that," Benedict explained following the talk.
"I mentioned that one percent of all abortions are the result of rape, which means 99 percent of women have made a choice," said Benedict, who leads the local Bound4LIFE chapter in Boston. She recounts the exchange and the question she never had the opportunity to fully state.
"We live in an over-sexualized culture," Benedict began, to which Professor Rosenfeld expressed agreement. "We engage ourselves in sexual activity not thinking of the consequences, that every choice has a consequence whether good or bad —"
At that moment, a young woman shouted accusations that Benedict was a "white women with privilege and education!"
Benedict recalls, "I simply responded, I don't go to Harvard and I drive for Uber! But others began chiming in and I never got my question out."
"The question was going to be, When do we, as women and men, put the responsibility on ourselves and begin to think about what the consequences of our choices will be and utilizing our freedom of choice beforehand?"  
"Because right now, abortion is our answer so we don't have to deal with the result of our choices," concludes Benedict.
Her emphasis on adults choosing a countercultural path echoes recent remarks from a pro-life leader in New York City.
"We at the Radiance Foundation are relentless about exposing an industry, but we are always compassionate toward the individual — especially those who have already chosen abortion," Bomberger said later in an interview.
While recording of the full event was not allowed, Students for Life of America live-streamed his brief remarks. The video has already garnered over 14,000 views online.
Bomberger observed that the Harvard forum reflected larger societal trends. "Our hope is that students in a learning environment will be receptive to hearing something they haven't heard before and investigate it themselves. But the Left doesn't want dialogue. The Left wants to control which words, which places and under what circumstances free speech is allowed."
"It's tragic that Alliance Defending Freedom has to represent students across the country to challenge these 'free speech zones' on campus," continued Bomberger. "You know what — in America, there is one free speech zone and it's from coast to coast."
"This forum proved that the issue of abortion is not settled," he concluded.
A half hour after the event ended, Ryan Bomberger continued to answer questions and chat with Harvard students.
Josh M. Shepherd serves in communications at Bound4LIFE International, a grassroots movement to pray for the ending of abortion, carry the spirit of adoption and believe for revival and reformation. He previously served on staff at The Heritage Foundation, Focus on the Family and in the U.S. Congress. Reprinted with permission from Bound4LIFE.