'Noah' Movie Trailer Video Leaks Online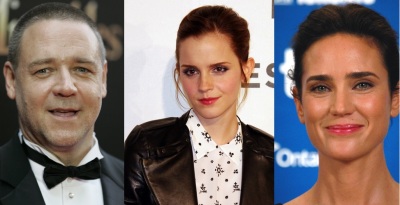 The trailer for Darren Aronofsky's new film "Noah" has leaked online.
In the three minute preview, Noah (Russell Crowe) awakens from a dream and informs his wife (Jennifer Connelly) that God "is going to destroy the world."
A man (Anthony Hopkins) confirms this premonition and informs Noah that it fulfills a divine promise that "if man continued in his ways, the creator would annihilate this world."
The trailer also suggests that the film's tension will center around Noah and his family becoming more at odds and antagonistic with (presumably) the rest of world as he builds the ark.
Currently, reports have claimed that Paramount and Aronofsky, the film's director, are at odds over who can make the final edits to the movie, which soared past its original budget of $150 million due to the cost of its special effects, according to The Hollywood Reporter. None of the animals in the movie are real and in some of the film's shots, the only original footage is an actor's face.
"Noah" also allegedly received "worrisome" feedback from Christian and Jewish audiences in preliminary screenings, causing more tension between the studio and director and highlighting the difficulty of reaching religious audiences, many of whom are already worried about the movie offering a Biblically unfaithful adaption.
The movie is set to open in theaters on March 28, 2014.