North Carolina Senate Approves Bill for Billy Graham Statue at US Capitol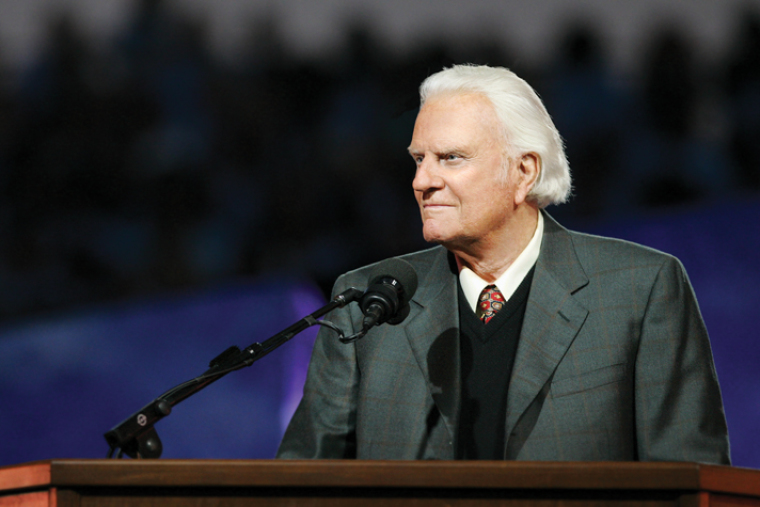 The North Carolina Senate has approved a bill that seeks to replace a statue of former Gov. Charles Brantley Aycock in the National Statuary Hall Collection with one of evangelist Billy Graham. The House, which has already backed that bill, has passed another resolution urging the U.S. Postal Service to issue a commemorative stamp honoring Graham.
With the support of both House and Senate, the bill can become a law as soon as Gov. Pat McCrory signs it.
"Each state gets two people to represent their state and their values, great achievements, great accomplishments they've made," said Republican Sen. Dan Soucek during the passing of the bill Thursday, according to Citizen-Times. "This is what our state represents to everyone else in the country, everyone else in the world."
Gov. Aycock, who was governor from 1901 to 1905, has drawn criticism for allegedly being part of North Carolina's white supremacy movement. Some college dormitories and other public buildings have also debated removing his name for that reason.
"There have been many great North Carolinians, but few have impacted the world more than Billy Graham," the bill states.
Sen. Gladys Robinson, a Democrat, questioned why an African-American like civil rights leader Julius Chambers had not been considered, but eventually voted for the bill.
Later on Thursday, the House passed another resolution 104-0, asking the U.S. Postal Service to issue a commemorative stamp honoring the evangelist. It doesn't require Senate approval.
In April, the House voted 71-28 for the Graham statue bill after much debate.
"We are talking about someone who has affected positively millions and millions of Americans and people around the world," Rep. John Blust, a Republican, was quoted as sayings then. "What more could you want out of someone to represent our state in the United States Capitol?"
Bill sponsor Rep. Charles Jeter, also a Republican, said at the time he couldn't think of anyone more worthy than Graham. "I just honestly believe he is the right person for this position," he said, adding he has got permission from Graham's family.
Some Democratic lawmakers opposed the bill, arguing that the General Assembly needed more time to consider other possible candidates for the post in Statuary Hall.
"If it had been more open, if it had not skipped the committee and vetting process, it might have been a totally different outcome," Rep. Susan Fisher, a Democrat, was quoted as saying then.
"I felt like there should have been more input from the residents of North Carolina," Fisher added. "Now certainly Billy Graham would have been right there on the list of people nominated… Now I have no issue with Billy Graham being that person, but process is really important to every citizen of North Carolina."
Graham is 96 years old and weak but his mind is still clear, his son, Franklin Graham, said earlier this year.
Billy Graham was hospitalized for observation and lung tests in November 2013, and has been very weak since then.
"My father is ready to go to Heaven and whenever that day comes, he's ready," Franklin Graham said last January. "He's worked hard all of his life and faithful to preaching the gospel of Jesus Christ his entire life. And so he's ready to go home and I'm praying that the Lord will leave him a little longer. We need him."